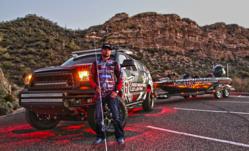 Rigid Industries, a global leader in the design and manufacturing of High Performance LED Lighting Products, is proud to announce they're teaming up with Brandon Palaniuk for a very promising 2013 BASSMASTER Elite Series Season. Palaniuk won his 1st BASSMASTER Elite Series event in 2012 on Bull Shoals. He was also the 2010 Federation Nation Champion.
Brandon's passion for fishing started with a career goal at 8 years old. At the age of 25, he has done more than most fishermen have done in a lifetime. Palaniuk will once again be fishing in the BASSMASTER Classic this year. Brandon Palaniuk stated, "I've spent many hours on the water and behind the wheel of a truck. There is no question in my mind that Rigid Industries LED Lighting Products are the brightest, most durable and functional lights on the market."
Click here to see the Brandon Palaniuk Rigid Industries Durability Test:http://RigidIndustries.com/PalaniukDurabilityTest
"It's no question that Brandon Palaniuk and Rigid Industries are carrying a ton of momentum into the 2013 season. You can now not only spot Brandon's truck and boat being loaded with tons of fish and gear, but also by both having the brightest, most advanced LED Light Bars in the Industry," said Dave Davis, Director of Sales for Rigid Industries.
The teaming of Rigid Industries and Brandon Palaniuk combines two of the most highly motivated partners in the world. While widely known in the Marine world, Rigid Industries can also be found lighting up Off Road and light truck vehicles, UTV's, ATV's, Work/Utility Vehicles, the Mining industry, and now advancing their technology into the Agriculture world with many new lights releasing in Q1 2013. To learn more about the newest Team Rigid Athlete, Brandon Palaniuk, and the Rigid Industries line of LED Products, connect with the community at http://www.Facebook.com/RigidIndustries.
To download the 2013 Rigid Industries Catalog please click here: 2013 Rigid Industries Catalog
Image courtesy Rigid Industries