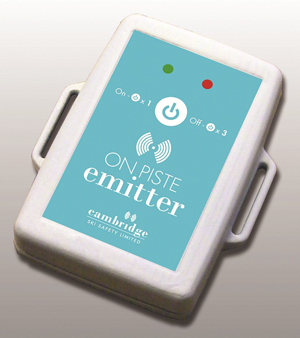 For the vast majority of skiers and snowboarders that stay well within the marked runs of the ski resort, getting caught in an avalanche is far from their mind. Avalanches on-piste just don't happen, right?
Well actually they do – there are numerous recorded cases of serious incidents, near-misses and on-piste fatalities due to avalanches crossing marked ski runs.
Cambridge Ski Safety has recently launched a brand new device that aims to bring avalanche safety technology to all recreational skiers. The device is called an On-Piste Emitter. For the first time an avalanche safety device has been designed for children to carry on-piste. You turn it on in the morning and off at night and it automatically sends a radio signal on the international avalanche distress frequency. Children do not have to operate the emitter unit and it's designed so they cannot accidentally turn it off or lose it when attached to a simple harness under their ski jacket.
The personal avalanche safety market has been previously dominated by transceivers, with both locate and search functions. Anyone going off-piste should carry, and be trained in the use of, avalanche rescue equipment which, as a minimum, must include a shovel, probe and transceiver.
An emitter sends out the same distress signal but has no search function. This has the effect of significantly reducing the cost of the device (a transceiver costs up to £350 whilst the emitter retails at £49.50), making it an affordable and potentially life-saving accessory for all levels of recreational skiers and snowboarders.
If buried in an avalanche, your survival window is severely compromised after only 15 minutes. Battery powered devices (like emitters) actively signal your location to potential rescuers. This allows would-be rescuers to find you more quickly and significantly improve your chances of being rescued alive.
Children and less-able skiers are particularly vulnerable to being caught in an avalanche that crosses a ski run as they generally do not possess the strength, speed or ability to get out of the way. Furthermore, because they are unable to participate in an avalanche rescue, the search function of the transceiver is of no use. An emitter, however, is a viable and cost-effective alternative that offers significantly enhanced levels of personal safety in case of an in-bounds avalanche.
How does an emitter work?
The emitter sends out a radio signal on the internationally agreed Avalanche Distress Frequency of 457kHz allowing all avalanche rescue services and ski patrollers and others who carry a transceiver to be able to trace and locate the source of the signal.
What others are saying about the new avalanche emitter device:
This emitter will be a great training tool for people practicing avalanche rescue. I'd bury them in rucksacks for people to find. They also enable peace of mind for people skiing on piste but who are worried about freak avalanches.
Stuart MacDonald – Mountain Guide and Director of Avalanche Academy, Chamonix.
I recently received my new emitter and I wear it on the slopes at all times to ensure I'm protected in the event of an avalanche.
Anna Turney, British Paralympic Alpine Ski Racer.
Core Facts
Cambridge Ski Safety was established in 2011 by James Aubrey Robson. Aware of ever-increasing avalanche risk faced by his 7-year old daughter, he was looking for a cost-effective way to maximize her survival prospects and designed the emitter.
The emitter is designed and built entirely in the UK.
The on-piste emitter costs £49.50, with 3-point harnesses available at £16.95 for adults and £14.95 for children.
The emitter is designed for in-resort use only – it has no search function and is not suitable for use off-piste or in the back-country.
Online purchase is available on > www.cambridgeskisafety.com.
Emitters can be found in a number of independent UK ski shops Including Ski Bartlett, 47 Degrees and I Can Ski.
Cambridge Ski Safety will be funding avalanche awareness seminars as part of an educational offering to schools.
The emitters can also be found in select chalet operators including Snow Crazy.
Product or associated lifestyle high res images are available on request.
For product samples to review please contact Rob Stewart at Ski Press.
Technical Specifications
Transmission Frequency   457 kHz
Weight with batteries        115g
Dimensions                      72mm x 92mm x 22mm
Transmission Life              In excess of 100 hours
Batteries                          2xAAA Alkaline 1.5V
Low battery indicator         Active and progressive visual signal
Transmission range           44m (circular)
The emitter complies with the application of article 3(3)(e) of Directive 1999/5/EC for avalanche beacons.
Image courtesy Ski-Press