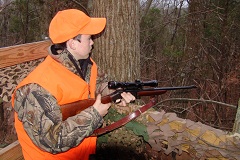 Youths wanting to try hunting for the first time can collect a free sportsman's license at boat shows in Louisville and Lexington.
The offer applies to first-time hunters between the ages of 12-15. Youths must have completed a hunter education course. Licenses are available at the Kentucky Department of Fish and Wildlife Resources' booth.
Free licenses for eligible youths will be available at the Louisville Boat, RV and Sport Show being held at the Kentucky Expo Center from Jan. 22-27, and the Kentucky Sport Boat and Recreation Show at the Lexington Convention Center from Jan.31- Feb.3.
"Kentucky Afield" television host Tim Farmer is scheduled to appear at the Louisville show from 10:30 a.m. until noon Jan.26. Experts from Kentucky Fish and Wildlife will conduct special one-hour seminars on fishing and hunting opportunities on private and public lands at 2 and 3 p.m. Jan. 25. Seminars will be conducted again at noon and 1 p.m. Jan 26.
The youth sportsman's license is good for resident or non-resident hunters. This is a $25 value. The youth sportsman's license includes a hunting license, a permit for one deer and a permit for one turkey. Youths 15 and younger do not need a fishing license, trout permit or migratory bird permit.
Only Kentucky residents are eligible for an adult sportsman's license. This is a $95 value. The sportsman's license includes a hunting and fishing license, spring and fall turkey permits, a deer permit, a state waterfowl permit and a trout permit.
Youths can come get their free first hunting license at either show if they have completed hunter education and bring their course completion certificate. Youth hunters who have not completed their hunter education requirements can take the classroom portion online at fw.ky.gov prior to the show. Youths can complete the range work portion of the certification at either show.
Visitors to both shows can test their skills at the laser shot hunting simulator or the Crosman air rifle range.
Image courtesy Kentucky Fish and Wildlife