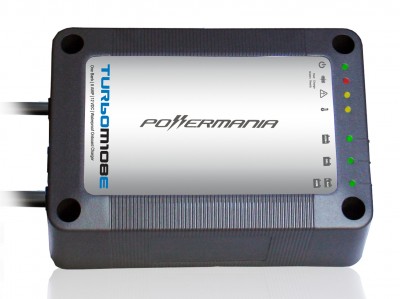 Providing serious battery chargers for serious anglers, Powermania launched its new Turbo ME-Series onboard chargers.  The economical M108E is a true three-stage automatic charger.  It can fully charge a depleted group 27-sized battery and is priced at a comparable range of a miniature trickle charger.
Adding even more value to the long list of features, the Turbo ME chargers have three built-in charging profile presets for the most commonly used 12V batteries.  This includes lead-acid/AGM, high power AGM and GEL batteries.
Compact and rugged, the well-constructed M108E is ideal for smaller boats with tight spaces.  This onboard battery charger is fully potted with epoxy to ensure long-term waterproofing.
Powermania's new Turbo M108E has a price $89.
With 25 years of experience in designing and manufacturing a full range of chargers and power supplies, Powermania specializes in providing power solutions from recreational to industrial applications.  The company's new Turbo ME Series is ideal for recharging and maintaining 12V DC batteries in marine applications and other harsh environments.
Contact Powermania, 3333 Bowers Avenue, Suite 130, Santa Clara, CA 95054.  Toll-free: 1-888-581-8168. [email protected], www.powermaniausa.com
Image courtesy Martin Flory Group