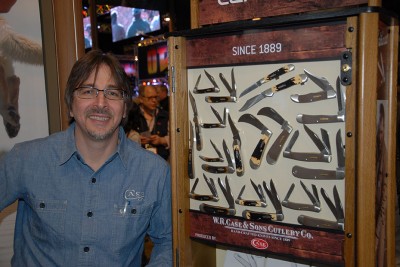 In 1889, two of the most iconic companies in the outdoor industry were founded–W.R. Case & Sons Cutlery Company and Carhartt Clothing. In 2013, they will be teaming up to supply some of the best knives available to the consumer.
"Today we want to put a Case knife in every Carhartt pocket," Fred Feightner, consumer marketing and communications manager for Case, says. "Case has formed a licensing agreement with Carhartt to create 22 different knives in three collections: the Gentleman's Collection, the Workman's Collection, and the Sportsman's Collection." The two companies will work together in consumer marketing, branding, and developing products.
"This blending of product lines was an easy marriage for our core customers," Tim Humes, senior brand manager for Carhartt, explains. "Carhartt customers are hard-working, blue-collar workers who need hard-wearing durable tools as well as clothes. So, to add a brand like Case to our marketing program and product line has been a great fit for both companies. We have opportunities to showcase our brands through our websites and retail stores and get Case knives into our consumers' hands. We're introducing the Case line to our sportsmen and our working men. Carhartt has spent time, energy, and money creating rugged, durable products for America's workforce and for outdoorsmen. There isn't much difference between working at a tough job site and participating in a tough deer hunt. When these people reach into their pockets, we want them to pull out knives that stand for the same values as Carhartt."
The two companies have been working together for about a year to get to the wedding day.
"We spent three years studying Carhartt and its consumers, and when we realized both our companies were founded in 1889 and had the same core values, we decided it was a natural marriage," Ed Jessup, vice president of sales and marketing for W.R. Case & Sons, mentions. "We believe the Case and Carhartt customers represent the backbone of America–the folks who keep this country moving. We've found that the working man and the outdoor enthusiast are the same person. We've developed knives under the Carhartt brand for the gentleman, the working man, and the sportsman. Carhartt [provides the] pockets and we're in those pockets."
Case is in the development process for new products to add to the Carhartt line well into the future. For blue-collar America, these two companies go together like peanut butter and jelly in a brown paper bag. All signs point to it being great marriage for the outdoor industry and for the men who move America.
Image by John Phillips