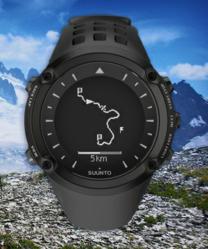 Suunto Ambit has been voted the best downhill skiing and mountaineering watch for 2013 by the Heart Rate Watch Company. This is the second consecutive year the watch has received this honor.
"Suunto Ambit logs vertical feet, maps, heart rate, top speed, calories and all kinds of data for alpine skiing that no other watch can match", says Rusty Squire, skiing world record holder for most vertical feet in 12 hours. He adds, "I've never tried a watch that came up with so much ski related data and I've been testing these things since Avocet came out with its first Vertech watch back in the 1990's".
The Suunto Ambit has continued to evolve through a series of firmware updates that have added more advanced fitness and navigation features to the watch since its introduction in June of 2012. "This watch just keeps getting better and better", says Squire. He adds, "It truly is a case of getting what you pay for and the durability and technology are unsurpassed in the world of GPS watches".
httpv://youtu.be/eLzSVU15H6s
MADE FOR BIG MOUNTAINS
For mountaineering and navigation there is no watch that can do all the same functions the Suunto Ambit can according to Squire. "For mountaineering and back country skiing it offers the most possible data, including current weather trends from a barometric altimeter which can save your bacon", says Squire.
NORDIC SKIERS TOOL
For Nordic skiers Ambit can record precise heart rate, offer real-time distance, pacing data and a barometric altimeter offers accurate altitude and post ski maps with elevation relief. "It offers more overall data than any watch in its class", says Squire. He adds, "For off-piste skiers and back country the navigation technology built into this watch offers trackback where you can track from way point to way point to safely re-navigate your steps".
GET TOTAL VERTICAL, TOP SPEED AND MORE ALPINE SKIING
Suunto Ambit delivers data like top speed, mileage skied, total vertical feet and even full color relief maps that re-trace your entire day in maps of the ski resort. "This type of metric and mapping technology is a quantum leap ahead of what was available just a few years ago and your iPhone can't even come close to gathering this type of data, plus it will only last a couple hours in GPS mode", says Squire. He adds, "Ambit has far more accurate GPS than any phone we have ever tested as the GPS is near military grade".
USE GOAL ZERO TO RECHARGE
The Goal Zero Guide 10 Plus Mobile Kit to re-charge your Suunto Ambit again and again in the back country with no power source. Simply use the battery pack and the lightweight solar panel that hangs from your back pack.
Garmin fenix would rate a close second in this category but that watch is currently undergoing an overhaul to correct moisture issues and will not be re-released until mid-February 2013. "John Yarington has tested Garmin fenix extensively as a back country skiing watch and loves it but unfortunately an unforeseen manufacturing glitch has taken it out of consideration for the time being", says Squire.
Image courtesy Heart Rate Watch Company