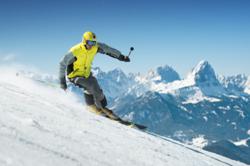 Ski hotels are in great demand during winter, but winter lovers often find it difficult to figure them out when searching for them online. Many tourism websites are pretty foggy when it comes to this topic, and otel.com was part of this until recently. The MetGlobal team identified this issue and decided it was time to dedicate ski hotel facilities a special section on their website.
'We know it's not quite the easiest thing to find ski resorts on tourism websites, but we also know that during winter these hotels are in great demand', says otel.com Business Development Manager Meltem Balkan. He continues saying, 'we tried to find a way to ease our visitors' search for ski hotel types when they browse through our website, so we came with this idea – a page dedicated to winter tourism'.
Otel.com Business Development Manager develops more on the topic, saying that they have managed to create a page that not only show ski hotel deals, but also opens visitors to an enhanced online experience. 'We focus on several different aspects of these searches. For example, we know that the price is an important – maybe the most important – aspect when going on holiday, and we also know that the destination plays a major part'.
The benefits of checking in at a ski hotel are obvious: slope neighborhood, and ski-oriented services. This type of holiday is different from other kinds mainly because there are no landmarks to be visited (like in the case of cultural tourism). Therefore, it is very important that the ski hotel facilities are complete and relevant to the activity that the tourists are going to undertake.
Therefore, the otel.com team decided to include various benefits for the users when it comes to searching for the best ski resort destinations. Searches can be made according to:
    Destination (wide selection of countries and cities)
    Type of hotel (luxury vs. budget)
    Check-in and check-out dates
    Number of rooms
    Number of people (adults and children)
Among the destinations suggested and included on the website, there are hotels such as the four star Magic Ski Hotel from Andorra. Tourists can enjoy all the benefits of a ski hotel and they can also visit landmarks such as Ordino – Arcalis, Pal Ski resort and Estadi Comunal.
Another attractive offer from otel.com includes check-in at the Fox All Suites Hotel, a three star destination in Banff, Canada. Besides the traditional services, the hotel also has a swimming pool and fitness center.
Yosemite View Lodge Hotel is another interesting suggestion from otel.com. Situated in the United States, the 2 star hotel is perfect for those who care about their wallets, but who also put value on their accommodation.
For more winter destinations from all around the world, visit the dedicated webpage http://www.otel.com/skiresorts.php.
Met global