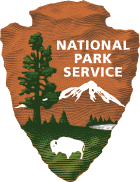 Recent storms have brought additional snow to the park, and the Acting Superintendent has determined that there is now adequate snow cover for the use of snowmobiles for traditional activities in the areas of the1980 park and preserve additions to Denali National Park and Preserve north and south of the crest of the Alaska Range.
Riders are reminded that all lands within the former Mount McKinley National Park on both the north and the south sides of the crest of the Alaska Range are closed to all snowmobile use by federal regulation. Maps with GPS coordinates for the park and preserve boundary are available on the park website at www.nps.gov/dena/parkmgmt/park-boundary-info.htm.
Overall, riding conditions are variable. It is the rider's responsibility to avoid locations where wind or topographic conditions may have reduced snow depth and created situations where damage to vegetation or soils could occur, or where vegetation is taller than the protective snow cover.
Riding conditions are potentially very dangerous due to recent snowfall and high winds.  Avalanche hazard is high due to wind crusts and layers in the snow pack. It is important to avoid steep slopes, narrow valleys, and ravines.  There are many areas of thin ice or open water on rivers.
Winter weather in the Alaska Range can change very quickly and become severe, with high winds and temperatures well below zero. Park rangers stress the importance of bringing survival gear on all trips into the backcountry and informing friends or relatives of your travel plans. Remember to assess local conditions before venturing into the backcountry.
Regulations and information regarding snowmobiling in Denali National Park and Preserve is available on the web at www.nps.gov/dena/planyourvisit/snowmobiling.htm.
The Murie Science and Learning Center is open daily from 9:00 am – 4:00 pm as the winter visitor center, providing visitor information and backcountry permits.  Additional information is available on the park website at www.nps.gov/dena or by calling 907- 683-9532 between 9:00 am – 4:00 pm daily.
Image courtesy National Park Service