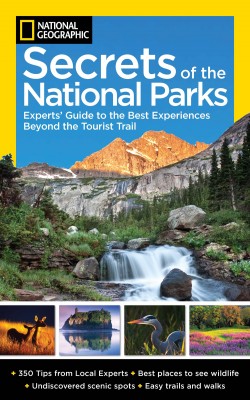 At Denali National Park's Tattler Creek, scores of dinosaur tracks can be seen on a rocky outcrop known as the "dance floor"; Acadia National Park is one of the best spots on the East Coast for star-gazing; at Great Smoky Mountains National Park, visitors can become "citizen scientists" and take part in seasonal research projects such as bird banding or monitoring streams for salamanders.
These are just some of the lesser-known facts about our national parks revealed in a new book from National Geographic, SECRETS OF THE NATIONAL PARKS: Experts' Guide to the Best Experiences Beyond the Tourist Trail (National Geographic Books; ISBN 978-1-4262-1015-0; on-sale date: April 2, 2013; $22.95 trade paperback). The book showcases the parks' hidden gems and little-known experiences, and provides a wealth of information designed to help visitors get the most out of exploring the national parks. Visited by nearly 280 million people in 2011, the parks are among the most popular destinations in the country.
The editors of National Geographic Books asked 10 well-known nature writers with intimate knowledge of 32 of the most-visited parks to share tips about spots off the well-beaten tourist tracks that are often overlooked but which can make a trip to a national park extra special, exciting and memorable.
These writers-at-large talked to park rangers, outfitters, local guides and others to uncover the least crowded beaches, barely tramped trails, hard-to-find sights, best wildlife-viewing spots and more. The writers found there are still secrets to be discovered in every park, including much-traveled ones such as Grand Canyon, Death Valley, Petrified Forest, Haleakalā and Wind Cave national parks. Their tips are organized into easy-to-read narratives to help travelers plan and enjoy their national park adventures. 
Divided by region — The East; Southwest & the Rockies; and Pacific Rim — each of the 32 park descriptions includes the best hidden gems, such as walks, trails, waterfalls and out-of-the-way valleys, lakes and groves, as well as photographs of the scenery and wildlife and National Geographic maps to orient visitors to specific places. Also provided is practical information such as the locations of visitor centers and the best time of year, or day, to visit a park. In addition, members of the National Parks Trust, local park staff, frequent visitors and outfitters offer their thoughts on traveling in the national parks.
The final chapter offers one secret each from 26 other national parks. 
"Our national parks are places of majesty that hold secrets large and small for those with a curious eye and adventurous spirit. Even our most-traveled parks are constant sources of discovery," writes F. William Brownell, chairman of the National Park Trust's board of trustees, in his introduction to the book. "Each national park has its secrets, whether it's walleyed pike spawning in a trickle in the middle of Voyageurs in Minnesota, or grizzlies viewed from the old school bus that runs deep into Alaska's Denali, or bugling elk at dusk in the Grand Tetons of Wyoming."
From unusual animal sightings to scenic viewpoints to mountain biking and kayaking opportunities, SECRETS OF THE NATIONAL PARKS is the perfect way to see the parks through fresh eyes and a new perspective.
Spokesman for the Book
National parks expert Robert Earle Howells has been editor at large of National Geographic Adventure magazine, a correspondent for Outside magazine, a regular writer for Men's Journal and an author for National Geographic Books during his long writing career focused on adventure and the outdoors. He won the 2009 Lowell Thomas Travel Journalist of the Year silver award and has twice won Lowell Thomas gold awards for his adventure travel writing. Among his book credits are National Geographic Books' "The Ten Best of Everything: National Parks" as well as "Backroads of Southern California" and "Backroads of New England." An ardent hiker and mountain biker, he lives in Southern California.
Image courtesy National Geographic