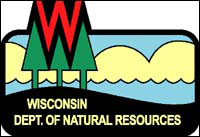 With no significant snowfall since late December and last week's rain and warm temperatures, snow sports have basically come to a halt across most of the state. Snowmobile trails are closed in most counties, with a few northern counties continuing to report tails are open but in very poor condition. A handful of locations are still reporting adequate snow for cross-country skiing, including Blue Mound State Park and the Northern and Lapham Peak units of the Kettle Moraine State Forest, with the latter only on one loop where there is snow-making equipment. Rib Mountain State Park is still reporting adequate snow for their snowshoe trails.
Brunet Island and Governor Dodge state parks have both cancelled candlelight ski events scheduled for this Saturday, due to the icy trail condition. A candlelight hike is still scheduled to proceed at the Horicon Marsh State Wildlife Area, with the education center open and many other activities planned.
The warm temperatures and rain melted snow on lakes across the state and this week's cold temperatures have improved ice conditions on many lakes. Many areas are reporting the ice refroze quite smooth, making excellent conditions for ice skating.
The improved ice conditions are very timely for Wisconsin's first free ice fishing weekend this Saturday and Sunday. Residents and nonresidents can fish without a license and it includes all inland waters and Wisconsin's side of the Great Lakes and Mississippi River. Size and bag limits are still in place, as are fishing season dates. People can check the DNR's online fishing regulations to look up the rules for inland lakes. Nearly 20 of DNR's tackle loaner sites across the state have ice fishing tip-ups and jigging rods available for people to borrow. People will need to use their own ice auger, take over an abandoned hole or ask the angler fishing near you on the ice to drill a hole or let you borrow their auger.
The variable weather conditions in the last week have made for some continued erratic fishing. In the north, walleye anglers continue to report sporadic action. Northern pike action has been fair and panfish anglers report some nice crappie, perch and bluegill being found suspended off the bottom in deeper water. In the south, ice conditions have been improving, but there are still areas of open water on larger lakes an anglers continue to need to be very cautions. There has still been some open water fishing reported on both Lake Michigan and the Mississippi River.
Snowy owls continue to be reported at a number of locations around the state and great horned owls are now calling vigorously to verbally defend their territories. And a winter aerial bald eagle survey conducted Jan. 8 along the lower Wisconsin River found 434 adult and juvenile bald eagles, more than double the number found last year and third highest on record. This should indicated excellent eagle viewing opportunities for this weekend's Bald Eagle Watching Days at Sauk City and Prairie du Sac. Additional eagle watching activities are planned later this month and next. Check the DNR website for details.
Image courtesy Wisconsin Department of Natural Resources