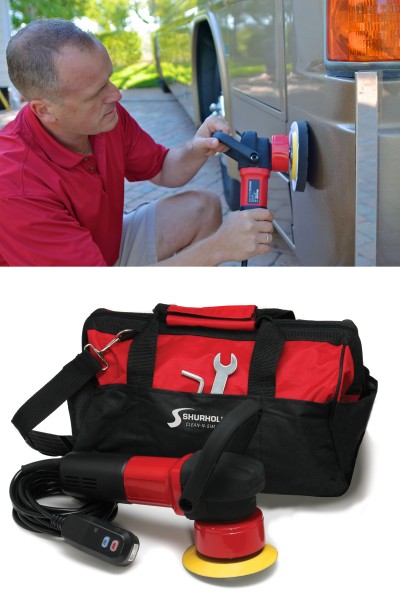 To help owners keep their RV in top shape at a lower cost, Shurhold Industries offers its award-winning Dual Action Polisher. This easy-to-use, hands-on tool enables users to polish and detail a coach in half the time and with half the effort as before. With a revolutionary random action orbit, the polisher's 6″ oscillating head eliminates burns and swirls, enabling any owner to achieve the same great finish as a professional.
Extremely versatile, it can be safely used when polishing fiberglass, gelcoat, stainless steel and metalwork. It can even be used to clean windshields when using the appropriate pad and cleaner. After owners finish shining up their rigs, they can use the polisher on their car or boat.
An adjustable D-handle creates ideal hand positioning, while the soft-touch head provides comfort. At only 4.8 lbs., this polisher can be swiftly maneuvered by almost anyone.
Its six speed settings help remove light and heavy-duty scrapes and spots. Shurhold's Dual Action Polisher has a 2500-6500 OPM motor.
Shurhold Industries' Dual Action Polisher has a retail price of $149.99 and comes with a 20′ GFCI power cord, quick change backing plate, heavy-duty carrying bag, wrench, manual and one-year limited warranty. Shurhold also offers a complete collection of polisher pads.
Shurhold is dedicated to educating owners on RV value preservation. Inventor of the One Handle Does It All system, Shurhold manufactures specialty care items and accessories to clean, polish and detail.
Contact Shurhold, 3119 SW 42nd Ave., Palm City, FL 34990.  800-962-6241; Fax: 772-286-9620.  www.shurhold.com/rv.
Image courtesy Martin Flory Group/Shurhold