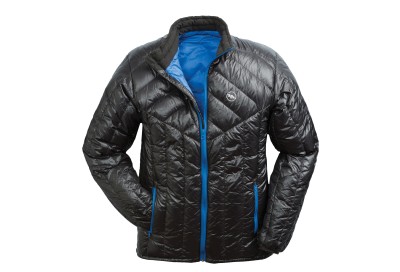 Insotect Ltd. is pleased to announce that the company's Insotect Flow insulation system will be present as a key component in Big Agnes's new collection of mid-weight down jackets with DownTek water repellent down. The hoodless Hole in the Wall Jacket and hooded Shovelhead Jacket will debut during Fall 2013 in men's and women's models and feature Insotect Flow construction technology.
This marks the first time ever that Insotect Flow will be present in a category outside of sleeping bags. Insotect Flow has quickly gained broad adoption as a staple feature within leading high-end sleeping bags and is now widening its portfolio to include down-filled jackets.
"We're fired up to make the jump into down jackets because we know how well the technology works in our down sleeping bag line," commented Bill Gamber, Big Agnes founder and president. "What's unique about these jackets is the DownTek water repellent down and the Insotect Flow vertical baffles, which facilitate heat distribution and retention. It just works better."
Insotect Flow combines the presence of vertical thermal channels (VTCs) with Insotect's proprietary FlowGates. The vertical orientation primarily helps to facilitate heat distribution more readily along the length of the insulated gear which is an advantage over traditional side to side horizontal channels and box-stitching on jackets. The FlowGates are placed along the vertical thermal channels to hold the down insulation in place, minimizing any down-shifting and virtually eliminating cold spots. The presence of vertical baffles also enables the gear to take on a more form fitting shape which fashion conscious consumers will appreciate.
"We are extremely excited to enter a new category such as apparel with Big Agnes. Insotect Flow has proven to be a welcome evolution in sleeping bag construction technology and its presence within down-filled jackets is a logical progression. The virtues of Insotect Flow will give both the "Hole in the Wall" and "Shovelhead" jackets an exciting new technical edge and form-fitting appeal." – Irvin Vale Akopov, Insotect Brand Manager.
For more information on Insotect Flow please visit http://www.insotect.com
Image courtesy Insotect