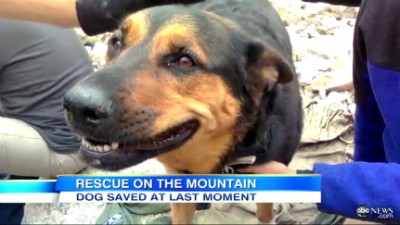 In August, we reported the story of a hiker and dog owner who left his German shepherd Missy for dead after a hike on Mount Bierstadt  in Colorado. The hiker, Anthony Ortolani, faced animal cruelty charges punishable by up to 18 months in prison and a $5,000 fine. On Tuesday, he avoided jail time and a fine and was sentenced to perform 30 hours of community service as part of a plea agreement. He pled guilty.
The dog is now under the ownership of Scott and Amanda Washburn, who own two other German shepherds. The Washburns were part of an eight-person group of volunteer hikers who banded together to rescue the stranded dog after she had spent eight days at 13,000 feet on Mount Bierstadt surviving inclement weather with no food or water.
Initially, there was  a custody battle over the dog: Ortolani wanted to keep it, but the hikers fought to keep Missy. They have since renamed the dog Lucky.
The Clear Creek County Sheriff's Office led an investigation into the matter. Ortolani explained that he, Missy and a friend were hiking on Mount Bierstadt when the dog's paws became too injured to walk. Ortolani tried to carry her at first, but the 110-pound dog was too much for him and they were falling, injuring the dog further. Bad weather was moving in, so Ortolani made "the decision [he] honestly never thought [he] would even be faced with," Ortolani wrote explaining his actions in a forum post on 14ers.com, a mountain climbing/hiking website after the dog was found and Ortolani got wind of the rescue.
He called police to alert them of the matter, but they said there could be nothing done for his dog in the weather at the time. Ortolani returned to work which he could not leave to return to rescue his dog. Seven days later, the Washburns were hiking the same mountain and came upon the stranded dog. They gave her food and drink, but were not able to carry down the dog themselves. They posted their ordeal on 14ers.com and solicited volunteers to help retrieve her. Strangers came forward and organized a rescue mission the next day. After they successfully brought the dog down, Ortolani read the forum post and tried to reclaim his dog. A small custody battle ensued and he was then charged with animal cruelty.
In the video below are images of the dog, her rescuers and new owners:
Image screenshot of video by ABC News