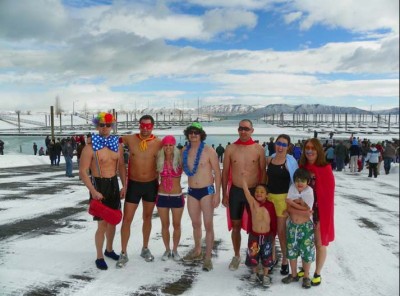 Do the Cisco Disco at Cisco Beach on the east side of Bear Lake Saturday, January 26 from 6 a.m. to 10 a.m. Cisco are small whitefish that make their annual run through Bear Lake. Dip a net into the water and catch your share.
After the Cisco Disco, drive to Garden City on the west side of Bear Lake for the Bear Lake Monster Plunge at Bear Lake State Park Marina. Take an icy swim or watch those brave enough to enter the 35-degree water. Entry fee is $25 per person and includes a sweatshirt and hot chocolate. Registration is available online at www.bearlake.org or beginning at 11 a.m., day of event. Jumping begins at noon and prizes are given for best costume and largest group.
For more information, please call 435-946-3343 or visit www.bearlake.org.
Image courtesy Utah DNR