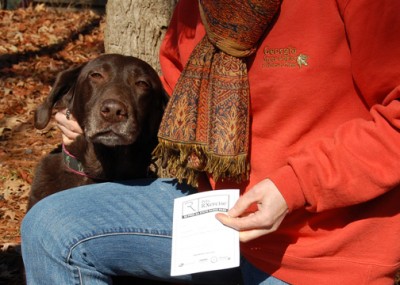 Shhhh. Don't tell Fluffy, but he's a little – how do we say this – too fluffy. And no one wants to talk about it. That's the news from a recent study which found that 30 to 50 percent of American dogs are obese, closely mimicking the human epidemic, and that a third of their owners do not realize it is a problem.
To motivate Fluffy and his human companion to get more exercise, the Georgia Veterinary Medical Association (GVMA) has partnered with Georgia's State Parks to encourage healthy walks in the woods. Through the new Pets RXercise program, veterinarians can give their canine patients a "prescription" to visit a Georgia State Park. The prescription is redeemed for free parking, which is normally $5. Park admission is free and there is no fee for hiking on trails. Pets RXercise is part of the Georgia State Park System's Tons of Fun Fitness Challenge, in conjunction with the GVMA. The program is sponsored by Purina Veterinary Diets and Pfizer Animal Health.
What's good for the pet is usually good for the person. As exercise buddies, dogs can provide social support and motivation for people to walk. "Dog walking may not only help individuals increase and sustain regular physical activity, but may help people meet and sustain recommended levels of physical activity," according to Jacqueline N. Epping, MEd  in The Health Benefits of Dog Walking for Pets & People: Evidence & Case Studies, Johnson, RA; Beck, AM & McCune, S (eds). Purdue University Press (2011).
Pets RXercise is the first program of its kind to be initiated by a state veterinary medical association.  It's also the first venture combining animal nutrition and veterinary pharmaceuticals solutions, in tandem with regular exercise, to create a multi-faceted approach to prevent obesity for happier, healthier pets and people.
"Reaching and maintaining an ideal weight and fitness level can help both pets and their people live happier, longer lives," said Dr. Denise Funk, GVMA President. "As veterinarians, we are delighted to launch Pets RXercise as a public health initiative to create awareness and provide an exercise-focused framework that can be tailored to health needs, which ultimately reflects the cherished animal-human bond."
Pets RXercise invites pets and their owners to enjoy the great outdoors and get those endorphins pumping in Georgia's State Parks, which includes more than 40 state parks that allow leashed dogs on trails and in campgrounds. Trails range from easy lake loops and paved paths, to longer and more challenging hikes. State Park officials stress that keeping dogs leashed, and cleaning up after them, is for the pet's own safety, as well as the safety of wildlife and other park visitors.
"Guests are sometimes surprised to learn that dogs can get lost in the woods, and they can get hurt if they chase wildlife," said Director Becky Kelley. "It's very important that they stay leashed while enjoying their walk. We want to see visitors enjoying the parks with their four-legged family members, and we also want to ensure that everyone is safe and that wildlife is not affected."
Know before you go to Georgia's State Parks:
Walking trails can be found at GeorgiaStateParks.org/petsrxercise.
Georgia's State Parks allow leashed dogs on walking trails, with some exceptions at Panola Mountain and Tallulah Gorge state parks.  Dogs are not allowed on bike trails or horse trails.
Leashes must be six feet long or shorter, and owners must clean up after their pets.
Dogs are allowed in campgrounds and select cottages.  A pet fee is charged for cottage reservations.
Those who find that their dog loves walking in the woods can save money by purchasing a $50 Annual ParkPass good for all Georgia State Parks.
GVMA tips for keeping dogs healthy while exercising: 
Check with your veterinarian prior to beginning any new pet exercise regime.
Moderation is the key to prevent injury and exhaustion. Start off slowly and on level ground, especially if your dog has not been getting much exercise.
Be aware that some breeds such as bulldogs and pugs have respiratory challenges that might keep them from exercising as strenuously as other breeds.
Make sure to take an ample supply of fresh drinking water for Fido. Plan for periodic water breaks along the way. Like humans, animals can quickly become dehydrated, even in winter months.
Be cognizant of the temperature and potential hazards. Just as wearing a fur coat is not ideal for brisk hiking in the summer heat, paws can suffer frostbite in harsh freezing temperatures.
Be aware of rocky terrain and slippery surfaces. While some pooches become quickly adept at navigating, others may require booties for traction and to prevent abrasions.
Dogs should always have current tags and identification. A microchip or tattoo is encouraged as a permanent means of identification.
Don't forget to pack the pet first aid kit. Visit the American Red Cross's website to order a pet first aid guide and advice on how to build a pet first aid kit.
Program your veterinarian's and animal emergency clinic's information into your phone.
Image courtesy Georgia Department of Natural Resources