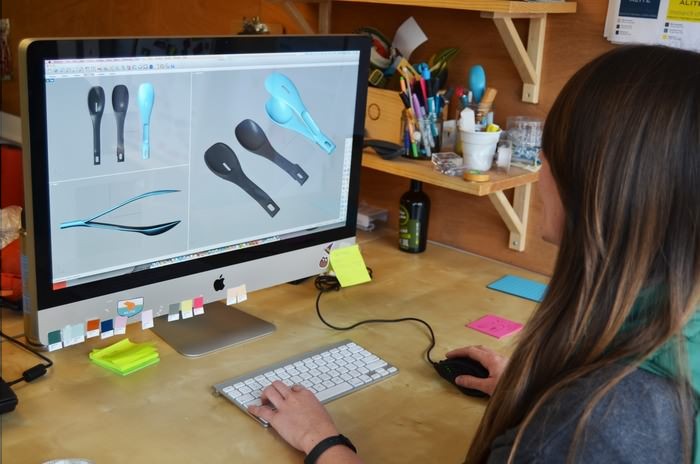 Alite Designs, an innovative outdoor gear company based in San Francisco, today announces the launch of a Kickstarter campaign to help fund the production of its latest outdoor cooking utensil, the Clover Cook set.
The Clover Cook set is a 3-in-1 outdoor cooking tool that makes cooking in the outdoors simple and fun! The set includes a big spoon for stirring your five-alarm chili, as well as a spatula for flipping golden buttermilk pancakes.  The spatula features a serrated edge for cutting through your sunrise omelet or slicing through that morning sausage.  But the real magic happens when the spoon and spatula are joined together to form tongs! Reverse and nest the spoon and spatula back together for space savings and ease on the go.
Alite has chosen to leverage Kickstarter to fund the tooling and materials cost for the Clover Cook set.  Upon successfully reaching this Kickstarter project goal, all proceeds will go directly towards the production of the new Clover Cook set.  Alite aims to ship the first production run of the Clover Cook set by late March/early April 2013. Pre-orders of the Clover Cook set will be offered as the primary reward, but higher donations will be awarded select pieces from Alite's outdoor gear collection, including the famous outdoor Monarch and Mantis chairs, the notorious Sexy Hotness Sleeping Bag, and a select group of backpacks, tents, and other outdoor eating utensils.
Alite is a startup that began designing outdoor gear in 2009.  Since then, the company has successfully brought over twenty innovative outdoor products to market. These products include backpacks, sleeping bags, tents, outdoor chairs, outdoor eating utensils, and more.
For more information about Alite's Kickstarter campaign visit:  Kickstarter campaign
Image courtesy JAM Media Collective/Alite