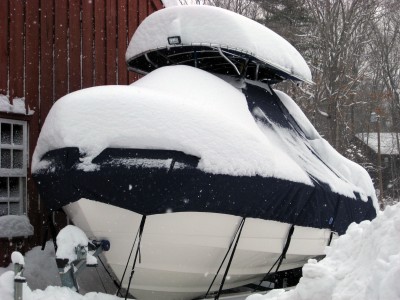 Left exposed to winter weather, most coated fabrics are liable to stiffen and crack, particularly when the fabric moves or is folded in freezing temperatures.  Frigid conditions present no challenge for rugged WeatherMax fabric by Safety Components.  It undergoes no change in properties even at -40º F, remaining pliable through punishing winters.
Good-looking all year long, WeatherMax is a smart choice for boat covers, enclosures, tents and tops where both appearance and toughness matter.  Its imperviousness to below-zero temperatures also make it ideal for outdoor applications such as portable ice fishing shanties.  WeatherMax stays pliable for easy folding.
In lab tests, WeatherMax outperforms marine-grade polyesters and acrylics in strength and resistance to tears and abrasion.  Its tightly woven, solution-dyed SaturaMax yarns resist fading for five years or more.
Safety Components' exclusive, eco-friendly HydroMax finish enables WeatherMax to shed moisture and resist mildew while maintaining breathability.  This makes it exceptionally well-suited for outdoor storage where covers can accumulate snow.  The fabric is also recyclable.
Safety Components Fabric Technologies, Inc., is known for creating fabric to meet the demands of extreme environments.  This includes marine, outdoor and industrial use as well as firefighting, military and automotive safety applications.
Image courtesy Martin Flory Group/Safety Components