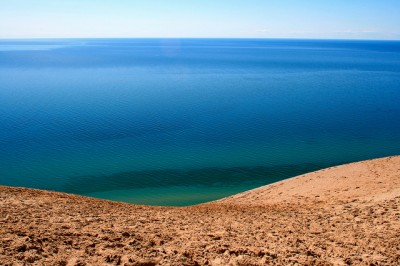 Michigan's famous Sleeping Bear Dunes on the lower peninsula's northwest shore may soon receive a special conservation designation under legislation awaiting a vote in the U.S. House. It was passed unanimously by the Senate on Sunday. The bill would preserve 32,000 acres of the park's total 71,187 acres as a wilderness area.
If the bill passes, certain areas of Sleeping Bear Dunes would be covered under the highest level of federal conservation protection. The bill also updates the lakeshore's general management plan. Sleeping Bear Dunes won the title of "Most Beautiful Place in America" by a popular vote on ABC's Good Morning America, mentioned in a  press release from Senator Carl Levin, co-sponsor of the bill.
If you haven't visited this Michigan jewel, it's a must-see. Stretching for 35 miles along the northern Lower Peninsula's Lake Michigan shore, the park features towering ancient sand dunes that are the products of wind, wave and ice action over thousands of years, and are truly one of nature's great masterworks… The lakeshore, which encompasses more than 70,000 acres, also protects and interprets an extraordinary history of Native Americans, early pioneers, farmsteads, and maritime activities.
The conservation status would not affect hunting, fishing, camping, or hiking in the park, as all those activities would still be allowed in developed areas where roads, boat launches, and historical structures are present, according to the release.
The bill was co-sponsored by Senators Levin and Debbie Stabenow. It was introduced almost two years ago.
Image from Amy Selleck (AmySelleck) on the flickr Creative Commons