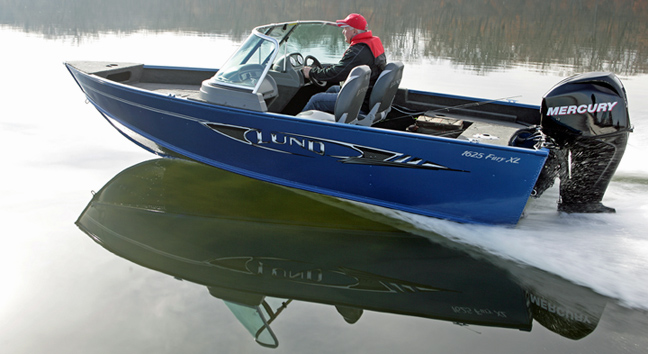 The New 1625 Fury XL brings oceans of features and versatility to any angler
Anglers looking for a versatile boat with fishing prowess are going to love Lund's New 1625 Fury XL. From the extensive bow storage to the 8-foot center rod locker to a spacious cock-pit for unrestricted fishability, this boat has something for every angler.  It's small enough to fit in most garages and easily towed to hard-to-reach waters. The 1625 Fury XL is the go-anywhere boat that does it all in a slightly smaller footprint.  This feature-rich wallet-friendly boat is truly built to take any lake by storm.
The 1625 Fury XL has an overall length of 16 feet 3 inches with an 80-inch beam.  It comes with a center rod storage compartment with tubes and rod butt holders for six, 8-foot rods. That means no worries about snapping long trolling rods, muskie sticks or panfish whips. Plus, you get huge deep bow storage compartments with oversized doors to house all your tackle and accessories. And don't forget the 36-inch long, 15.5-gallon aerated bow livewell with timer and built-in bait management system, perfect for keeping fish fresh for the frying pan or photos.
From the premium finished interior to a spacious console layout, there's plenty of room for four of your buddies or family. It comes standard with two deluxe pedestal seats and is rated for up to a 5-person capacity. Add the optional rear casting platform that flips over for additional seating, and you've got an even larger back deck for plenty of casting space. Combine this with the large bow platform and you're enjoying yet another ultimate fishing experience.
The 1625 Fury XL also contains Lund's SportTrak and ProTrak accessory mounting system for ideal placement of rod holders, fishing accessories, or snapping on the cover.  So, there's never a need to drill holes in your boat.  Included, is a 12-gallon portable fuel tank with a concealed easy-access storage compartment as well as a 12-volt trolling motor plug. You even have the option of adding a factory-installed two- or three-bank charger and 24-volt plug to add a high-thrust trolling motor. Other options include a 2-step boarding ladder and stereo.
It also comes in three different models—tiller, side console (SS), and walk-thru windshield (Sport)—the tiller version starts at $11,195* with a Mercury 25 HP ELHPT engine, and is rated for up to 50 hp.  The SS starts at $12,995* with a Mercury 40 HP ELPT, and both the SS and Sport are rated for up to 60 hp.
Lund's new 1625 Fury XL—the go-anywhere boat loaded with fishing features in just a slightly smaller footprint is exactly what anglers have been searching for.
For more information on the 1625 Fury XL or to shop Lund's full selection of fishing boats, visit lundboats.com.
Image courtesy Traditions Media/Lund