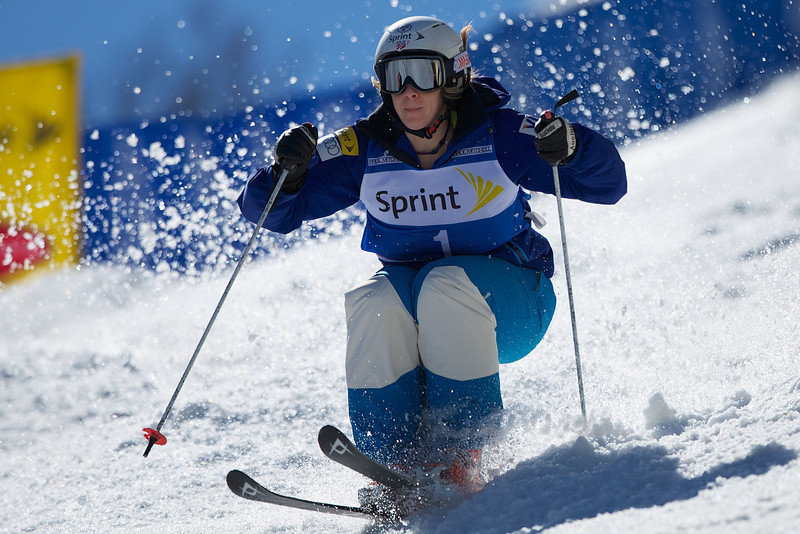 Hannah Kearney is returning to World Cup competition later this month following an October training crash that grounded the 2010 Olympic Moguls champion.
Kearney, known for her two pigtails popping through her helmet, fractured a couple of ribs and sustained minor internal injuries during the Zermatt, Switzerland accident.
The U.S. Ski Team freestyler was cleared for jumping and full training on the first day of the new year and now has her sights set on the USANA Lake Placid, New York Freestyle World Cup January 17-19.
Kearney returned to snow last month first skiing at Copper Mountain, Colorado and then was on the slopes closer to her Norwich, Vermont home during the holidays at New Hampshire's Waterville Valley, where the Dartmouth College student skied with children as part of her role as that resort's ambassador.
She is an alumna of the Waterville Valley Academy and noted Black and Blue Trail Smashers Ski Club that has produced a number of top international ski and snowboarding athletes.
"Her confidence level is amazing," said USSA freestyle program director Todd Schirman. "She knows she wants to be 100 percent when she hits the gate."
Kearney is coming off an incredible season where she won an astounding 16 straight FIS World Cup victories (over two seasons) while also netting overall freestyle and overall moguls champion—for the second straight year.
Kearney, first on skis at age 2, has 47 career World Cup podiums including 30 wins.
"An athlete like Hannah when held back just makes her hungry," he said.
According to Schirman, Kearney's goal is winning the World Championships this season which will put her on her way to competing at the 2014 Olympic games in Sochi, Russia.
"I wouldn't doubt that she wants to do better than she's ever done," he said.
Following the Lake Placid contest, Kearney competes at another U.S. ski resort—Deer Valley, Utah—January 31-February 2 before moving on to a competition in Sochi, an Olympic practice.
"We are thrilled to have the FIS Freestyle Ski World Cup return to Deer Valley for another year," said Coleen Reardon, director of marketing for Deer Valley Resort. "Champion and White Owl runs prove to be the perfect venue for these world-class skiers, as well as for the thousands of spectators that turn out for this annual event."
But before Kearney tackles those courses she's on snow in Steamboat, Colorado getting back up to speed.
"The scenario worked out great," he said. "This gives her time to train."
Lake Placid is something of a home venue for Kearney as not only is Vermont nearby, but so is Montreal, the home of her mother.
Off the snow, Kearney enjoys hiking and biking as well as watching her brother's hockey games. Her brother Denny played at Yale and is now a minor league player.
Kearney was the Eastern and Junior U.S. Championship moguls title in 2002 as well as the Eastern dual championships plus the Junior World Championship moguls and dual gold medals. She repeated both titles at Junior Worlds in 2003.
She has also won four U.S. Championships titles.
Schirman says Kearney is really good for the team, both ladies and men, who are skiing next to the best skier in the world.
"She supports and pushes them," he said. "She works out really hard, trains hard and doesn't hold back. She's an inspiration and a leader."
Image courtesy Kirk Paulsen/US Ski Team