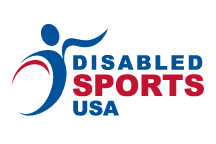 Disabled Sports USA (DSUSA), one of the nation's largest multi-sport, multi-disability organizations, today announced the schedule for its 2013 SkiTour, a calendar of winter programs conducted nationally.
The SkiTour program is the only one of its kind, ensuring opportunities for wounded warriors, youth and adults with disabilities to receive high-quality instruction and state-of-the-art adaptive equipment throughout the nation's leading ski destinations such as Breckenridge, Sun Valley, Aspen, Stowe, Park City, Tahoe, and others.
Events include beginner to elite alpine ski and snowboard race training and races, Nordic ski programs and instructor training on the latest adaptive teaching techniques. From January to April 2013, the DSUSA winter programs will include more than 85 events hosted by 47 DSUSA chapters and affiliates in 23 states. Programs for the wounded warriors are part of DSUSA's Warfighter Sports program, which offers sports rehabilitation programs free of cost to severely wounded warriors and a family member. Warfighter Sports rebuilds lives through sports by improving self-confidence, promoting independence and uniting families through shared healthy activities.
SkiTour will again be supported by U.S. Paralympics, a division of the U.S. Olympic Committee, through funding provided by the U.S. Department of Veterans Affairs. Their support will help provide enhanced sport programming for disabled veterans and disabled members of the Armed Forces by increasing opportunities for wounded warriors to participate in physical activity in their home communities and in advanced regional and national Paralympic sport programs.
"This program has a tremendous impact on veterans by giving them the skills and techniques to give them confidence not only on the mountain, but in their daily lives," said Charlie Huebner, Chief of Paralympics, USOC. "SkiTour, through DSUSA's expertise, along with support from Veterans Affairs, is ensuring veterans have access to more winter sport opportunities and programs."
Additional support for DSUSA's sports rehabilitation programs, including the programs for severely wounded service members is provided by the following corporations and foundations: AIG, WellPoint Foundation, Ariel Corporation, Bob Woodruff Foundation, Blue Dream Gala, The Chart Group, Fluor Corporation, Heisman Trophy Trust, The Moore Charitable Foundation, PING, Tee it up for the Troops, Trijicon, Wash Depot Holdings, Anthem Life and others.
SkiTour includes internationally sanctioned elite International Paralympic Committee "NorAm" ski races that qualify USA and international ski racers for events worldwide, leading to the Paralympic Winter Games. NorAm is the only national qualifying race series for ski racers attempting to qualify for the U.S. Disabled Alpine Championships. The SkiTour schedule also includes the Diana Golden Level I Race Series for youth with physical disabilities.
"The 2013 DSUSA SkiTour provides skiing, snowboarding, sled hockey, biathlon and Nordic sports opportunities that teach people with disabilities that they can lead full and active lives with their physical challenges" said Kirk Bauer, JD executive director of Disabled Sports USA and a disabled Vietnam veteran. "The confidence, dedication and commitment it takes to succeed on the mountain can be applied to other areas of life. They come away from their experience with the attitude embodied in DSUSA's motto: 'If I can do this, I can do anything!'".
Additionally, DSUSA works with the Professional Ski Instructors of America – American Association of Snowboard Instructors (PSIA-AASI) to train ski and snowboard instructors in the latest adaptive techniques and learn about advances in adaptive equipment.
DSUSA chapters hosting SkiTour events are highlighted below by state. To view the complete SkiTour calendar of events, click here.
Alaska: Challenge Alaska
Arizona: Arizona Disabled Sports
California: Disabled Sports Eastern Sierra; Disabled Sports USA Far West; San Diego Adaptive Sports Foundation; US Adaptive Recreation Center
Colorado: Adaptive Adventures; Adaptive Sports Association; Adaptive Sports Center; Breckenridge Outdoor Education Center; Challenge Aspen; Colorado Discover Ability; Steamboat Adaptive Recreational Sports; Telluride Adaptive Sports Program
Idaho: Adaptive Wilderness Sports of McCall; Sun Valley Adaptive Sports
Illinois: Great Lakes Adaptive Sports Association
Indiana: Special Outdoor Leisure Opportunities
Maine: Central Maine Adaptive Sports; Maine Adaptive Sports & Recreation
Maryland: Baltimore Adapted Recreation and Sports; Blue Ridge Adaptive Snow Sports
Minnesota: Courage Center Duluth
Montana: Eagle Mount Billings; Eagle Mount- Bozeman
New Hampshire: Ability Plus; Bretton Woods Adaptive Sports & Recreation; New England Disabled Sports; New England Handicapped Sports Association
New Mexico: Adaptive Ski Program
New York: Greek Peek Adaptive Snowsports; Lounsbury Adaptive Ski Program; STRIDE Adaptive Sports; The Adaptive Sports Foundation, Inc.
North Carolina: SUDS Diving, Inc.
Oregon: Oregon Adaptive Sports
Pennsylvania: Pennsylvania Center for Adapted Sports; Two Top Mountain Adaptive Sports Foundation
Tennessee: Sports, Arts & Recreation of Chattanooga (SPARC)
Utah: Common Ground Outdoor Adventures; National Ability Center
Vermont: Bart J. Ruggiere Adaptive Sports Center; Vermont Adaptive Ski and Sports
Washington: Adaptive Action Sports, Inc.; Outdoors for All
West Virginia: Challenged Athletes of West Virginia
Wyoming: Teton Adaptive Sports
Image courtesy Disabled Sports USA