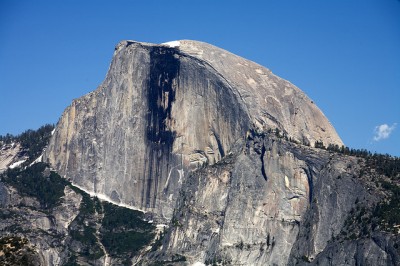 Half Dome, an iconic, granite dome-shaped cliff at the eastern end of Yosemite Valley in Yosemite National Park, can attract upwards of 1,000 people per day who seek to scale the top of the nearly 5,000-foot formation. Yosemite officials said there were even days in 2008 when 1,200 people attempted to summit the dome in one day.
For some time, there has been considerable debate about limiting the number of people attempting the summit, ensuring the safety of those climbers and also how to preserve the vitality of Half Dome in its natural state.
Yosemite Park officials decided to limit the number of hikers allowed to summit to 300 per day, beginning with the 2013 visitation season. At the same time, officials decided not to remove the cables located at the last 400 feet of the summit, the steepest part of the journey.
The crowding at the summit was blamed for both fatal and non-fatal accidents at the steep, flat rock surface. In 2011, officials limited the number of hikers to 400 and instituted a permit system to manage crowds, but despite the efforts, a 26-year-old woman from California died when she fell 600 feet while walking down the cables.
The group Wilderness Watch has been fighting to remove the cables, arguing that doing so would solve crowd problems and restore Half Dome to its natural state.
"Though many current visitors to the top of Half Dome might not be able to reach the summit without the cables," Wilderness Watch wrote in a statement urging others to take action to remove the cables, "those visitors prepared for wilderness conditions and technical climbing could still do so. The crowding problems would be alleviated, and the wilderness character of Half Dome and its trail would be restored."
The National Park Service will implement the revised plan this summer which affects the two-mile section from the John Muir Trail to the summit of Half Dome. Permits will cost between $6 and $8 and will be available on a first-come, first-serve basis, a reservation system, a lottery, or a combination of these options. At most, 30 tickets will be reserved for commercial trips.
To see what the ascent is like, watch the video below beginning at 3:35.
httpv://youtu.be/ihNpkUp5JdM
Feature image from Ryan Grimm on the flickr Creative Commons, Cables and crowd image from Thomas Kriese (thomas pix) on the flickr Creative Commons