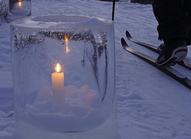 Join us in creating a magical night of cross country skiing or snowshoeing (or walking, if there is no snow) on trails lit by the warm glow of luminaries!  Volunteers are needed to assist with setting out luminaries along the 5 kilometers of ski trails, lighting the candles, and picking them up at the end of the evening. Help is needed on Saturday, February 2, 2013, between the hours of 4:30 – 9:30 PM.  Up to 15 volunteers are needed for this event.  This would be a great group activity!
 The event itself runs from 5:30 – 8:30 PM. Snowshoes are available to rent.  Volunteers need to be comfortable in dark, forested situations and physically able to work 2 – 3 hours outside in the cold weather. Listen for the barred owl at dusk and other winter night sounds. Hot beverages will warm your fingers and toes when you return to the Visitor Center!
Directions to Nerstrand Big Woods State Park:  Take I-35 to State Highway 19 east into Northfield. Go south on State Highway 3, east on State Highway 246, then turn right onto County Road 29.
For more information, contact Elaine Feikema, Park Manager, 9700 170 Street East, Nerstrand, MN 55053 at 507-333-4840 or email [email protected]
Image courtesy MN Department of Natural Resources