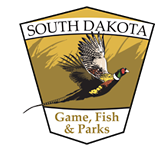 For the second year, America's State Parks hosted First Day Hikes in all 50 states. Over 22,000 people across the nation greeted the New Year by getting "naturally healthy" hiking in a state park on New Year's Day.
As a nation, 22,433 First Day Hikers logged a total of 45,000 miles on Jan. 1, 2013, in hikes that ranged from 1 mile to 9 miles round-trip. The annual event, sponsored by state park systems throughout the nation, highlights the state parks' effort to promote healthy lifestyles.
In South Dakota, hikes were held in 14 state parks where 172 participants hiked nearly 300 miles collectively. Hikes included a variety of themes from snowshoeing to bird watching to a scavenger hunt.
"These hikes are a great reminder for everyone that the state parks are open year-round," said South Dakota Parks and Recreation Director Doug Hofer. "Hiking, ice fishing, cross country skiing and snowshoeing are all great activities for the winter months."
First Day Hikes originated at Blue Hills Reservation in Milton, Massachusetts in 1992. In the past, several states offered special programs on New Year's Day. However, Jan. 1, 2012, marked the first time all 50 state park systems joined together to offer America's State Parks First Day Hikes. In the inaugural year, 400 state parks hosted 14,000 First Day Hikers so this year represents a significant increase in hike locations and participation.
For more information on programming and events in South Dakota State Parks, visit www.gfp.sd.gov or call 605-773-3391.
Image courtesy South Dakota Game, Fish and Parks