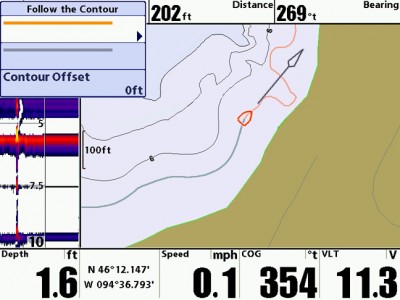 Six new map cards, more HD lakes and 'Follow the Contour' capabilities
In 2012, LakeMaster's Galilean-inspired team of mapmakers spent every waking minute exploring the waters you fish, updating data, and writing code. The goal? Provide anglers across the country with unprecedented, cutting-edge maps to the 'New World' of fishing.
Say goodbye to burning daylight exploring waters and scratching heads, wondering how to stay on fish. Let LakeMaster show you how to 'Follow the Contour'!
Available NOW—new for 2013—are six updated LakeMaster digital charts that not only offer additional high definition and enhanced contour data for the lakes, rivers and reservoirs you fish, but put the integrated power of LakeMaster, Humminbird and Minn-Kota at your fingertips with Minn-Kota's iPilot Link.
Set your Minn-Kota trolling motor to automatically follow on, or offset from, any LakeMaster contour including the shoreline, and spend your time fishing, not exploring. Move beyond the hassles and headaches of manual boat control, maximizing the time you spend in good water with your baits in front of fish.
Trust us, it's a game changer.
Image courtesy Traditions Media