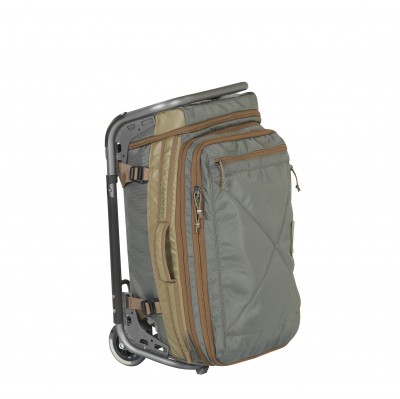 The Ascender Series, cornerstone of Kelty's new Travel collection, features an expanding frame, expanding bag, and modular functionality
In 1952, Kelty changed the outdoor world forever with the introduction of the first ever aluminum frame backpack. Now, over 60 years later, Kelty is ready to change the world of travel with the smartly designed Kelty Travel collection of packs, bags, and rolling luggage.
The Kelty Ascender Series is the cornerstone of the Travel collection and centers on the expandable and modular Ascender 22; a carry-on sized roller with an external chassis and a removable bag, both of which expand for extra storage and checked-luggage convenience. Modular in design, the Ascender Series also includes Kelty's water-resistant Ascender WR Duffel bag and customizable, gear-friendly Ascender Trunk bag that easily attach to the Ascender 22 chassis. The Ascender WR Duffel bag and Ascender Trunk bag will be sold separately.
"Kelty packs and bags have been to every corner of the world," said Russell Rowell, VP and Brand Manager for Kelty. "So when we set out to design our new Travel collection, we drew upon decades of experience to come up with a complete line of packs, bags, and duffels that reframe what luggage is capable of doing, allowing you to go customize your luggage for any travel situation."
Smartly designed and versatile enough to cover all your travel needs, the expandable Ascender 22 bag with chassis (expands from 40- to 55- to 70-liters) is the foundation of the line and, in combination with the Ascender WR Duffel (65-liters) and Ascender Trunk (80-liters) bags, it has all the storage and organization you'll need for a month in Europe, a week in the Bahamas, a long weekend of biking/climbing/skiing, or an overnight business trip.
The Ascender 22, Ascender WR Duffel, and Ascender Trunk all feature backpack straps, allowing you to carry these pieces like a pack, with or without the frame. All three bags feature handy organization options like a padded tablet pocket in the Ascender 22, Velcro dividers with separate gear compartment the Ascender Trunk, and coated exterior with water resistant interior compartment in the Ascender WR Duffel.
The Kelty Travel Series boasts a total of 21 different pieces and includes everything from the above mentioned modular Ascender 22 system to the TSA-ready Metroliner pack to the gear-devouring, 140-liter Zeppelin rolling duffel. Accessories include the Hanging Dopp Kit, the Digital Access, and the Wallet.
The Kelty Travel Series will debut at the Outdoor Retailer Trade Show in Salt Lake City this January (Booth #28027) with retail availability scheduled for Fall 2013.
Image courtesy American Rec/Kelty