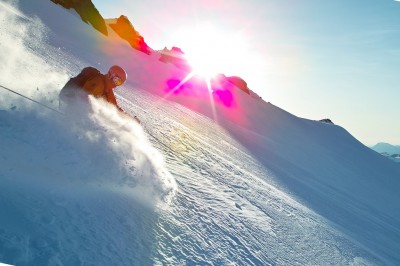 This week's swift snowstorm had at least one upside to it: breathing fresh life into ski resorts. Skiers in snow-starved states like Michigan and Ohio dreaded a recurrence of last year's conditions, and with snowfall in November and early December being thin and far in between, they prepared for another warm winter.
The late December storm dumped snow all across the United States and at its height unleashed 21 inches on an unsuspecting New England, prompting ski resorts to open their doors early. Mad River Mountain outside Bellefontaine, Ohio received more than 10 inches of snow according to the Columbus Dispatch, allowing them to open 23 of 24 skiing trails. Last year the resort was only able to utilize five. Pennsylvania's Whitetail Mountain Resort will also be opening up early to accommodate skiers. Resort spokespeople say that snowfall is a huge incentive and that an especially large one as Wednesday's will bring in crowds.
"You don't think about skiing until you see snow in the backyard,"said Mary Daly-Dawson of Michigan.
More natural powder means snow making equipment won't be used as heavily, and possibly a longer skiing season as well. The excitement is so great that agencies in several states have already earmarked advertising campaigns aimed at residents of less winterized areas, hoping to net a profitable tourist trade. Snow sports and related tourism brings close to $4 billion dollars to Michigan alone, says the Detroit News.
So while motorists and travelers may be groaning at the flight cancellations and icy roads, skiers and snowboarders will have reason to celebrate with a trip to the slopes.
Image from Thomas Kirkevåg (Thomas Kirkevåg) on the flickr Creative Commons