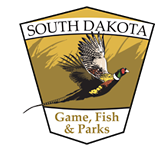 Winter is a beautiful time to explore the Black Hills, and what better way than snowshoeing on the George S. Mickelson Trail? The trail will host three snowshoe hikes this winter.
Hikes will be held at 1 p.m. MST on Jan. 5 and Jan. 19. Both will start at the Englewood Trailhead. A snowshoe hike will also be held at 1 p.m. on Feb. 2, with the location yet to be determined. Call the Black Hills Trails Office at 605-584-3896 for more information and the location of that hike.
Staff will teach basic snowshoeing skills while leading a nature walk along the trail.
"We have a limited number of snowshoes available for participants to use," said Dana Garry, Mickelson Trail manager. "We have had great turnouts for snowshoe hikes in the past, so it's important to sign up early to make sure you get a pair. There is no previous experience needed. If you can walk, you can snowshoe!"
"We'd also like to remind people that snowshoes are available for check-out anytime, not just during guided hikes," Garry said.
There is no cost for the hikes, although a trail pass is required. Both day and annual trail passes will be available for purchase before the hikes begin. Participants should dress appropriately for the weather.
For a full listing of events for 2013, visit the state parks website at www.gfp.sd.gov or call 605-773-3391.
Logo courtesy South Dakota Game, Fish and Parks