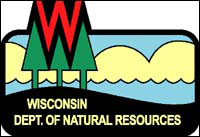 Poynette team
Warden Supervisor David Holmes of Poynette was called to a stranded boater who was stuck on a sandbar after dark. The person ran aground at dark and had no cell phone to call for help. The boater yelled for help across the lake. Warden Holmes responded, picked up the boater and his dog and took them to safety and out of the cold. The boater returned the next day to retrieve the boat in daylight.
Warden John Buss of Sauk received a complaint that a person went into a registration station to register a deer. The registration worker went to the individual's truck and there was no deer. The person pulled a $100 bill out and asked the registration worker if he could buy a buck sticker. The registration worker turned down the person. Wardens Buss and Mike Green of Wisconsin Dells did a follow-up investigation and the suspect stated he did not want to shoot a doe and he had to try and buy a buck sticker. Warden Buss charged the individual with providing incorrect information to the Department of Natural Resources.
Conservation Wardens Mike Green of Wisconsin Dells and Catherina Nooyen of Fitchburg, assisted by Mirror Lake State Park Ranger Patrick Carlson, investigated a complaint of a person hunting deer with the aid of artificial light in Mirror Lake State Park during the gun-deer season. Warden Green received a complaint on Thanksgiving night and observed a vehicle in the general area within the park. Warden Green was able to get a partial license plate and vehicle description. Warden Green contacted Ranger Carlson to see if he remembered the vehicle or persons associated with it and provided him the information on the complaint. The following day Ranger Carlson located a vehicle in a field with a person gutting out a cold buck near a wooded area where a shot was heard. While wardens were traveling to the scene, the person stated to Ranger Carlson that he shot the deer with a spotlight from the roadway in the park. Charges will be issued for hunting deer with the aid of an artificial light.
Conservation Wardens Mike Green of Wisconsin Dells and Catherina Nooyen of Fitchburg investigated a hunting violation stemming from a carcass being found in a field in southern Juneau County. The investigation revealed a person shot a large buck with a .22 rifle from a residence during the archery season prior to opening day of the rifle season. The person did not have an archery or gun hunting license. Charges are forthcoming for hunting during the closed and related violations.
Wardens David Horzewski of Reedsburg and Jeremy Plautz of Madison worked gun-deer enforcement along the 400 State Trail west of Reedsburg. The wardens contacted a hunter on a deer drive who had shot four deer along the trail at the end of the deer drive. Upon contact, the individual had shot the deer 20 minutes prior to the warden contacting him. None of the deer were tagged even though the hunter only had three tags for the four deer. Two of the deer were shot across the trail towards the state highway. The deer drivers in the hunting party did not show up at the scene until approximately 40 minutes later. Warnings and citations were issued to the group.
Warden Paul Nadolski of Columbia County responded to two environmental calls in November. One was for carbon monoxide poisoning in Fall River and another for a business fire in Columbus containing chemicals.
Warden Paul Nadolski of Columbia County assisted Portage Police and Columbia County Sheriff's Office with locating and stopping a vehicle that was reported to have attempted to break into locked vehicles in the City of Portage.
Warden Paul Nadolski of Columbia County and Columbia County Sheriff Deputy Greg Kaschinske rescued a fisherman on the Wisconsin River that had got stranded in shallow water. Air temperatures were in the mid 20s. The fisherman was more than five hours late returning home when the rescue call was made.
Warden Paul Nadolski of Columbia County had a busy gun-deer season with several arrests for illegal baiting, several untagged deer, illegal tree stands, hunting after hours, and many warnings for other various violations. Warden Nadolski also responded to a hunting accident near Poynette. The subject shot himself while in a tree stand, and was taken by helicopter to Madison for treatment.
Warden Paul Nell of Horicon and Warden Gary Eddy of Madison were working on Thanksgiving Day when they came upon a large number of fishermen at the Lowell Dam. The wardens observed the anglers were catching and keeping crappies at a fast pace. When the wardens made contact, one of the men ran away on foot, while two other fishermen began dumping their buckets of crappies. The wardens found that one of the fishermen had 81 crappies in his possession after he had dumped his pail. The man who fled on foot was located by the wardens. Several citations were issued to multiple fishermen for over bagging on crappies and fishing without licenses.
Lower St. Croix River team
Warden Wayne Flak of Menomonie assisted with a report of a house being shot near the city of Menomonie. Two Deputies gave chase to what turned out to be four male juveniles shooting windows out with pellet pistols. The pistols looked very real and had been stolen from Wal-Mart. No hunting violations were found and they were charged by the Sheriff's Dept.
In Pierce County, Warden Brad Peterson contacted a vehicle and suspects who had been shining deer/wild animals and they were found to be in possession of three firearms, one rifle and two handguns along with approximately 4,000 rounds of ammunition. Enforcement action was taken.
Warden Peterson also assisted Minnesota wardens with a gun-deer case involving a state resident who had shot a deer in Minnesota and transported it out of that state's CWD Zone. Peterson made contact with the person and obtained the information on the location where the deer was shot. Minnesota Warden Kevin Prodzinski took enforcement action.
Logo courtesy Wisconsin Department of Natural Resources