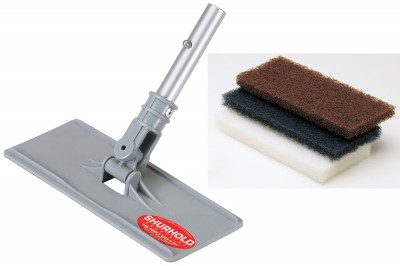 A multi-purpose tool, Shurhold Industries' Swivel Scrubber can be used for a variety of applications, from removing remaining soap residue after a wash to cleaning windows. For added convenience the Swivel Scrubber easily attaches to Shurhold's Telescoping or Fixed Length Handles, saving space on the RV.
A flexible soft washing tool, the Swivel Scrubber can be combined with a fine, medium or coarse scrubber pad for varying surface types. The fine pad is white and great for light teak cleaning, scrubbing non-skid surfaces and other durable surfaces. The blue medium pad is for general teak cleaning. The brown coarse pad is ideal for heavy-duty teak cleaning and paint preparation. A synthetic lamb's wool cover is also available and suitable as an all-purpose material.
Shurhold's Swivel Scrubber base has a price of $25.98 with the Scrubber Pads starting at $6.98 for a two-pack.
Shurhold is dedicated to educating owners on RV value preservation. Inventor of the One Handle Does It All system, Shurhold manufactures specialty care items and accessories to clean, polish and detail.
Image courtesy Martin Flory Group/Shurhold