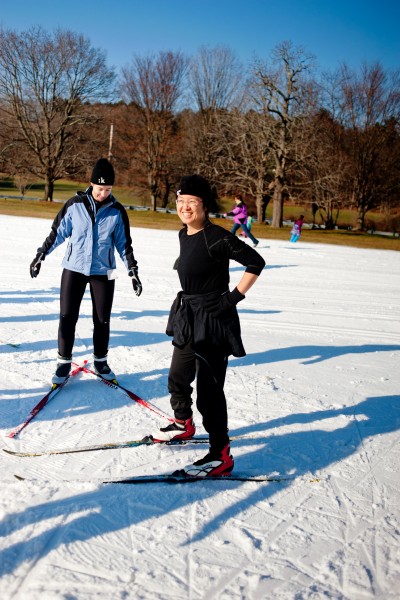 Time to get moving over the trails and through the woods on cross-country skis and snowshoes.
The snow sports industry is gearing up for their 18th annual Winter Trails Day January 12 , a day with free programs designed to entice would-be Nordic schussers and web-walkers to a lifetime of winter sports fun.
Over 80 ski area resorts and Nordic touring centers across the country are taking part in the day that last year drew about 11,000 children and adults to the snowy trails, according to organizers SnowSports Industries America (SIA), a non-profit trade group.
The Pacific Northwest, Colorado, Minneapolis, and Massachusetts tend to see the largest attendance.
"Washington, Oregon, Colorado, believe heavily in outdoor sports have a large athletic population near the events," commented SIA Nordic Director Reese Brown. "The primary Minneapolis and Massachusetts events are in the city at local parks so very easy to access."
Venue locations include:
Washington—The Mountaineers Snoqualmie Campus will have the latest gear while Chewelah's 49 Degrees North Nordic Center opens its trails to first-timers for free.
Oregon—Mount Hood's White River Snow Park holds a snowshoe only event.
Colorado—Keystone Resort Nordic Center plans a Nordic beginner lesson in the afternoon with pre-registration.
Minnesota—Events are scheduled for St. Paul's Fort Snelling State Park Picnic Shelter A and at Midwest Mountaineering in Minneapolis.
New York—Upstate festivities are planned at Reservoir State Park in Niagara, Buffalo's Tifft Nature Preserve, and Lapland Lake in Northville.
Massachusetts—Weston Ski Track outside Boston and Northfield Mountain Cross Country Ski Area are hosting clinics.
Participants come with open minds but also with some misconceptions, largely being that both sports are difficult to learn and require a high degree of physical fitness at the onset.
"The most difficult aspect of snowshoeing is putting them on, but with simple direction this will be overcome in minutes," said Brown in an e-mail. "Snowshoeing is very much like walking and after a few steps, the newbie will have it mastered. Regarding fitness, again similar to walking and running. You can go for a casual walk with friends or a trail run on snowshoes for a more involved workout."
Brown says cross-country skiing is a little more involved than snowshoeing to learn but with a short lesson it can be mastered at the basic level in one session.
"Like most sports, you may participate at a novice level and have great fun or get more involved and become more proficient over time," he said. "Regarding your physical fitness, many people never get beyond the shuffling around on skis much like walking. They still have a great time, get some exercise and enjoy the outdoors. Those looking for a rugged workout can get that also by varying the terrain and intensity."
The event tends to attract a wide range of participants spanning three generations.
"Both sports are very family friendly and do not require too much equipment or knowledge," said Brown. "We are seeing the older population getting involved as both are low impact and a great option from the sports they participated in at a younger age. Additionally, the grandparents can be involved with their grandchildren with both sports."
Both activities are best done while dressed in wicking and insulating layers with a lightweight pack with food and water.
Though pre-registering isn't mandatory for all venues, it's a good idea to contact the location you plan to visit to make sure all's hunky dory. There's a list of locations across the country and their offerings at www.wintertrails.org.
Check to see if grandma's house is on the way. She'll love to see you or may join you on the trails.
Images courtesy SnowSports Industries America (SIA)