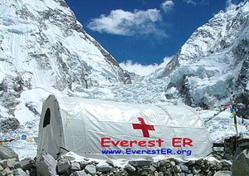 Following the great response and participation in their 2012 Everest Adventure, the WMS and Peak Promotion have put together another world class program—a 21-day CME adventure trek in Nepal. This one-of-a-kind, hands-on wilderness medicine training and experience offers the opportunity for continuing medical education from Kathmandu to Everest Base Camp. With the cooperation of our friends at Everest ER, two nights at Everest Base Camp (not normally offered for Everest treks) are included in this package.
The faculty will be comprised of Academy of Wilderness Medicine Fellows and will be lead by veteran Everest physician Dr. Eric Johnson, WMS Past-President, Teton Valley Hospital Staff Physician, and Medical Director for the Teton County Fire and Emergency Medical Service.
This is a once-in-a-lifetime opportunity for wilderness medicine enthusiasts to participate in a well-priced, educational, all encompassing Khumbu Valley-Everest experience. For complete details and a schedule visit the Wilderness Medical Society's website.
The Wilderness Medical Society (WMS), a 501(c)3 organization, is the world's leading organization devoted to wilderness medical challenges. Wilderness medicine topics include expedition and disaster medicine, dive medicine, search and rescue, altitude illness, cold- and heat-related illness, wilderness trauma, submersion injuries, envenomation, and wild animal attacks.
Image courtesy Wilderness Medical Society