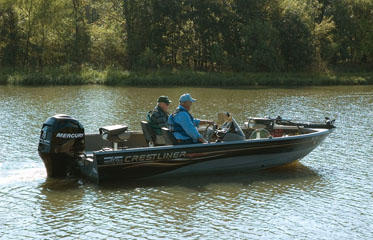 Kansas wildlife- and outdoor recreation-related activities are governed both by legislative statutes and commission-approved regulations. And the two governing bodies made some changes last year that hunters, anglers and campers should be familiar with.
The most controversial change involved legislative action that eliminated the hunting and fishing license exemption for Kansans age 65-74. Beginning in 2013, all Kansans age 16-74 will need a hunting or fishing license unless they are hunting or fishing on their own land. However, the legislation also mandated specially-priced "senior" licenses. Anyone 65 or older qualifies for a Senior Lifetime Pass, which is a hunting/fishing combination license valid for the rest of their life that will cost $42.50. They may also opt for a half-price annual hunting or fishing license ($11.50) or combination annual license ($20.50).
Hunters and anglers 65 and older are our fastest growing age group, and the old exemption would have created future funding shortfalls for wildlife and fishery programs. And the state was losing Wildlife and Sport Fishing Restoration (WSFR) funding that should have been coming to Kansas. WSFR allocates excise taxes collected on the sale of firearms, ammunition and fishing equipment to states based, in part, on the number of hunting and fishing licenses they sell. When Kansans seniors continued to hunt, fish and purchase equipment, but didn't buy licenses, Kansas lost out on WSFR funding it should have received. This change is an important step to ensuring that critical wildlife and fishery programs are maintained and that the funding base remains stable.
Another state statute established a new permit and will save Kansans money. The legislature approved a bill that allowed KDWPT to create a new annual state park vehicle permit that can be purchased when residents renew their vehicle registrations. The Kansas State Parks Passport is an annual vehicle permit valid for one year after purchase that gets the vehicle into any of our 25 state parks. The price is $15.50, which is a savings of almost $10 compared to the regular state park annual vehicle permit. Regular annual vehicle permits ($25) and half-price senior and disability vehicle permits will still be available at KDWPT offices and online. But for most park users, the new Passport will be less expensive and convenient.
Spring turkey hunters will notice that there are six turkey management units this spring. Biologists added two more units to allow more precise management practices. Criteria were established to allow regulations to be amended each year in response to population changes, and smaller units allow management plans to be more flexible.
Legal equipment for the spring turkey season was also amended, making it consistent with the fall turkey and deer equipment regulations. In 2013, turkey hunters with a youth permit (16 or younger) and those 55 or older may hunt during the archery spring turkey season with a crossbow. Previously, crossbows were only legal equipment during the regular firearm season.
One year after making sweeping changes in the use of live baitfish to prevent further spread of aquatic nuisance species (ANS), the commission approved amendments to those regulations. The original regulation required anglers to use wild-caught baitfish only in waters where they were caught. The amendment allows anglers to use green sunfish and bluegill for bait in waters other than where they were caught as long as they were not caught from an ANS-designated water. Another new regulation requires anglers who purchase baitfish from commercial bait dealers to keep the receipt for the purchase with them while fishing.
Fishermen should also be aware that the definition of an artificial lure has been amended. Anglers are limited to two rods (three with a three-pole permit) with no more than two baited hooks or artificial lures per line. The new regulation defines an artificial lure as a man-made fishing-catching device used to mimic a single prey item. Under this definition, umbrella or Alabama rigs may include only have two lures with hooks on them.
And finally, Kansas voters supported the ballot question last November that will allow the legislature to amend the constitution and change the way watercraft are taxed. With the current formula, watercraft in Kansas are taxed at a rate much higher than surrounding states. As a result, many Kansas owners register outside the state. The 2013 legislature is expected to hear proposals for a new watercraft taxation method.
Image courtesy Kansas Department of Wildlife, Parks and Tourism