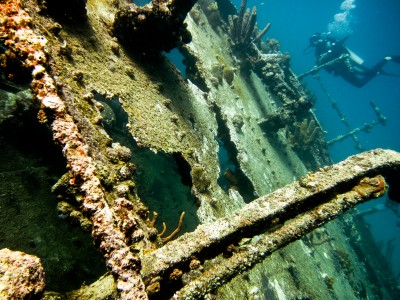 It seems the Great Lakes aren't the only place to find hidden treasures this year. Drought and low rainfall has led to perilously low water levels for parts of the Mississippi and Missouri Rivers, uncovering many artifacts of our nation's history.
Old steamships and other river-faring vessels have begun to appear where the water is lowest, offering modern day Americans a rare glimpse of a Mississippi long past, as well as a chance for adventure. Unfortunately for treasure hunters, salvaging anything from these wrecks is illegal as any property remaining on a sunken ship belongs to the state government. The U.S Coast Guard also advises against attempting to enter or approaching the ships as the wreckage may be unsafe, but from a distance these relics are interesting reminders of what the rivers had been in the 1800s.
As major waterways and methods of transportation, both the Mississippi and Missouri were once hosts to hundreds of river ships, most of them cheaply made and easily sunk. It is estimated that around 600 steamboats still lie on the bottom of the Missouri, including the famed Montana, which has recently surfaced. The gigantic steamer was about 250 feet long and offered the wealthy a sightseeing tour as well as carrying cargo downriver. Soon after it met its demise and sunk, the era of the steamboat gave way to the extensive and much safer railroad system that crisscrossed America. The Montana can now be seen in the Missouri River near St. Charles, Missouri.
Ships aren't the only pieces of history being uncovered in the rivers. A rock has been found in the Mississippi featuring what what may be early carvings of Native American villages. According to the Pioneer Press, the rock may be as old as 1,200 years and a map to undiscovered prehistoric communities. Researchers are at the site now but the location has not been released to the public.
Image from star5112 on the flickr Creative Commons