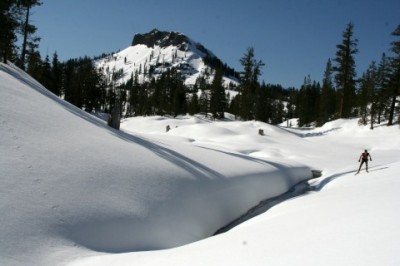 After negotiating twists and turns not unlike the cross country ski trails along the Donner Summit, the Douglas Wilson Companieshas completed the $11.25 million receivership sale of 3,240 acres of Sierra Nevada land rich in history and biodiversity to two conservancy groups.
On Dec. 20, the Truckee Donner Land Trust and The Trust for Public Land, working together as part of the Northern Sierra Partnership, acquired the property off Interstate 80 near Lake Tahoe in what Perry Norris of the Truckee Donner group called "arguably one of the most important conservation victories for the Sierra in a decade."
Included in the sale are the Royal Gorge Cross Country Ski Resort with its 3,000-plus acres of trail systems and the Summit Station day lodge as well as the surrounding watershed area of Serene Lakes, the area around Lake Van Norden, and 350 acres of pristine land in Negro Canyon.
The property's lender, Armed Forces Bank, N.A., successor by merger to Bank Midwest, N.A., sought the appointment of a Receiver in 2011 after the partnership of Kirk Syme and Mark and Todd Foster defaulted on a $16.7 million loan. They had proposed the development of a 950-unit recreation-centered conservation community, including trailside cabins, condominiums, single family homesites, new ski areas and lodging, using sustainable and low-impact design in and around what is known as America's largest cross country ski resort. Planning constraints related to availability of public services such as water, sewer and access, a concerted community effort to "Save Donner Summit" and the real estate crunch were too much for them to overcome.
The sale was handled by Tom Olson and Alan Scott, who lead the Douglas Wilson Companies' brokerage division.
"In my 30 years in this business, this is one of the most challenging – and yet rewarding – transactions I've been involved with," said Douglas P. Wilson, the named Receiver and chairman of San Diego-based Douglas Wilson Companies (DWC) whose firm has provided problem resolution on more than 1,000 properties from multi-family and office buildings to hotels and recreational properties including the Tamarack Resort in Idaho. "We usually find a bump or two when we are named as Receiver, but this time we faced a backdrop of jumbled entities, comingled properties, water rights, dam safety and the challenge of keeping a ski resort operating."
"Then there was the community's sensitivity about the land," he added. Donner Pass is known as the trail used by the first wagon train through the Sierra Nevada as well as the site of the first transcontinental railway and the first transcontinental telephone line. It is perhaps best known historically for the ill-fated Donner Party who became trapped during a legendary early Tahoe winter.
A sample of the complexities unraveled by the DWC team include:
Royal Gorge assets were comingled with other assets owned by the defaulting entities
Documents and contracts were in the wrong names
Agreements for trail rights and liquor licenses were unclear
State requirements for upgrades on the Lake Van Norden dam were in dispute
Conflicting claims for water rights
"This was the first time we were faced with this range of complications," said Wilson.
Initially, Royal Gorge and Negro Canyon were offered together with the 33-room historic Rainbow Lodge as a portfolio at $26 million by Douglas Wilson Companies'brokerage division, which has recently sold the former Wyndham O'Hare, a 466-room hotel located in Rosemont, IL; Shadow Ranch, a 65-acre property located at Interstate 10 and Monroe St. in Indio, CA; and C.W. McGrath Quarries, two rock quarries totaling 86.57 acres in San Diego, CA.
"But we couldn't find anyone who wanted it all," Wilson said. "It quickly became clear that we were looking for two buyers and decided to sell the Royal Gorge property apart from the lodge." Rainbow Lodge is now being marketed separately.
"History will reflect that this is one of the most impactful acquisitions in the region in terms of its size, location and history of the property," said Wilson.
Image courtesy Mark Nadell, Macbeth Graphics