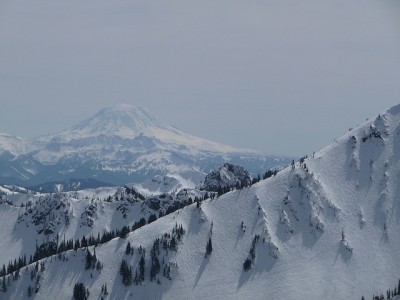 Seemingly unhurt, an unidentified woman was able to ski down on her own power after being buried in snow for 10 to 15 minutes when an avalanche hit Crystal Mountain in Washington's Cascade Mountains on Tuesday.
Her survival was jeopardized when her ski partner, who was only partially buried by the avalanche, informed ski patrol that she did not have an avalanche locator beacon nor an air bag. Although she was completely buried and not visible to rescue personnel, a team of volunteer rescuers and ski patrol found her by using collapsible metal probes to randomly probe around the area she was last skiing in. A skier named Chad found her in a tree well.
She was located a couple of feet down.
"There is air in the snow, you can breathe that for a while," Ski Patrol Director Paul Baugher told the Associated Press. Her quick rescue came thanks to the alignment of a series of preparations:
The woman was skiing with companions who reported where she was spotted last.
Although her companions were partially buried, they were able to dig themselves out to inform authorities of her whereabouts.
Skiers knew the direct emergency contact number for ski patrol.
Patrol personnel were on site and ready to search for the missing persons right away.
Although avalanche control work had been done in other parts of Crystal Mountain, it was not completed in the "little pocket" where the skiers were because it was considered to be an avalanche-free area. Leading up the incident, a major storm had dumped more than 40 inches of snow on the mountain.
"This is one of those things that creates phenomenal powder skiing but with that comes an increase in the avalanche hazard," Baugher said.
Image from Threat to Democracy on the flickr Creative Commons