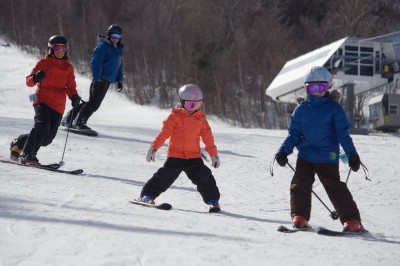 There's no excuse not to learn to ski or snowboard next month.
That's because ski areas across the country are trying to generate a new wave of skiers and snowboarders by offering discounted and free learning packages in January.
The first month of the year is Learn to Ski and Snowboard Month. According to organizers Snowsports Industries Amercia, some 100,000 children and adults took part last season.
"These programs are a chance to get your kids outdoors during the winter months and spend quality time with them," said Ski New Hampshire's marketing director Karl Stone. "It provides an ideal opportunity to try something new with your family at a price that anyone can afford."
Samples include:
Ski New Hampshire has added a new incentive to its Free Learn to Ski/Snowboard Week—January 12 -18, 2013. The association and participating member resorts are offering a coupon for anyone who takes advantage of the free lift, lesson, and rental package. The coupon allows $10 off for a return lesson and $20 off for a return package. It is good for the entire 2012-13 season and there are some restrictions.
Ski Vermont is selling a $29 lift, lesson and rental package at all of its member resorts during January. There are some restrictions.
Three Pennsylvania venues—Liberty, Whitetail and Roundtop—are providing discounts on all Learn to Ski and Snowboard packages during selected days in January. During these selected days, First Class Learn to Ski and Snowboard Packages—which include a lift ticket on selected beginner terrain, equipment rentals, and a first-timer group lesson—will be at the discounted rate of $39.
The Michigan Ski Industries Association again is offering Discover Michigan at its 23 ski and snowboard area members. The program includes a beginner lesson, ski or snowboard rental equipment and a beginner-area ski lift pass or cross-country trail pass available January 2 through January 31, 2013. Discover Michigan program prices are $20 for Discover Michigan Cross-Country Skiing; $30 for Downhill Skiing; and $40 for Snowboarding. The program is open to everyone 7 years and older.
Ski New Mexico is offering youths ages six to 12 a beginner lift, lesson, rental package for $30 during January at 8 downhill ski areas.
Idaho's Schweister Mountain has a month-long promotion for those aged 7 and up to learn skiing and snowboarding in group lessons for $39.
North Carolina's Beech Mountain is marketing a $45 program for January in conjunction with its 45th anniversary. The midweek deal is for those 8 and older, and includes lesson, gear, lift ticket and beginner lesson.
"The goal for us, is to provide affordable options for newcomers to try these sports, by increasing the accessibility of lessons and stressing their importance during the month of January," Beech Mountain Marketing Director Talia Freeman said.  "We hope to increase participation and improve the overall health and fitness of our fellow citizens."
In addition to the physical health benefits, skiing and snowboarding promote mental wellness during the winter months, by keeping people active, according to Freeman.
According to the National Ski Areas Association, around 4 percent of Americans ski or snowboard.
Freeman believes the low number of winter-sport participants is often attributed to the perceived high cost of the sport, combined with the intimidation of trying something new and different.
Stone says winters in New England limit the number of outdoor activities available.
"These programs give people a chance to see why so many people love to ski and ride during those months," he said.
It's best to register as soon as possible for the programs. Find out about all the specials and who is offering them at www.skiandsnowboardmonth.org.
Don't want to come alone? Already know how to ski?  Then bring a friend. Be entered to win prizes by participating in the nationwide Bring a Friend program. That web site is www.bringafriend.org.
image courtesy Ski New Hampshire