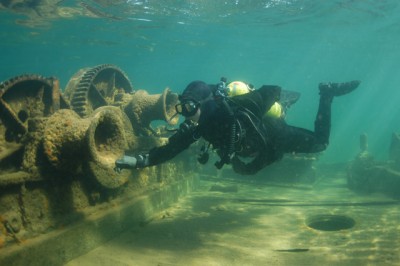 A little bit of history is peeking out from under the waves of the Great Lakes. Marine archaeologists are reporting a number of exposed sunken ships due to extremely low water levels in the Great Lakes, mostly visible in Lake Superior.
Great Lakes water levels are near historic lows and they are exposing about one to two feet of some near-shore shipwrecks. Lakes Michigan and Huron are only about one inch above record lows set in 1954, and about two feet below the long-term average, according to the U.S. Army Corps of Engineers and John Karl, science communicator for the University of Wisconsin Sea Grant Institute. Lake Superior is about four inches higher than a record low and 14 inches below the long-term average.
While some ships are visible year-round because they are in surf zones, a number of ships can now be seen from shore and from kayak in shallow water along the coastline. In surf zones, ships are cyclically exposed as storms intensify the surf to bury some ships and dig others back up.
Keith Meverden, a marine archaeologist with the Wisconsin History Society, said these wrecks can be found in those areas not typically exposed to surf, such as bays and backwater areas where vessels are typically abandoned.
Some of the wrecks may be viewed from shore, by kayak or during a dive (in a drysuit at this time of year). At Bullhead Point in Sturgeon Bay, there are three vessels visible from a little park on an abandoned pier.
In the Apostle Islands off the northernmost tip of Wisconsin, there are a few ships visible from Red Cliff Bay, and from two marinas in Bayfield: the H.D. Coffinberry, the Fedora, the Finn McCool, and the Ottawa.
While the exact number of recently exposed ships is unknown, Karl said in an interview with radio station WUWM that there are more than 700 sunken ships just in the Wisconsin waters of the Great Lakes, which leads the nation in number of shipwrecks listed on the national register of historic places.
Wisconsin ports have been major players in marine trade since the early 1800s. Most of today's visible shipwrecks sank in the 19th century.
The Fedora, for example, was a 1,848-ton wooden bulk carrier built at the F. W. Wheeler shipyard in 1889. She had a short life when she caught fire and ran aground on September 20, 1901. Now, most of her lower hull lies in eight feet of water near Red Cliff, Wisconsin.
For more descriptions of more wrecks, read the Maritime Trails report (pdf).
Images courtesy Tamara Thomsen, Wisconsin Historical Society