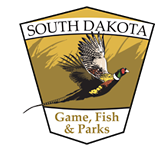 South Dakota state parks will sponsor free, guided hikes in 12 state parks on New Year's Day as part of America's State Parks First Day Hikes initiative in all 50 states.
America's State Parks First Day Hikes offer individuals and families an opportunity to begin the New Year rejuvenating and connecting with the outdoors by taking a healthy hike on Jan. 1 at a state park close to home. First Day Hikes offer a great way to get outside, exercise, enjoy nature and welcome the New Year with friends and family.
"We are excited to host First Day Hikes as part of this national effort to get people outdoors and into our parks. First Day Hikes are a great way to cure cabin fever and burn off those extra holiday calories by starting off the New Year with an invigorating walk or hike in one of our beautiful state parks," said State Parks and Recreation Director Doug Hofer.
First Day Hikes originated more than two decades ago at the Blue Hills Reservation, a state park in Milton, Mass. The program was launched to promote both healthy lifestyles throughout the year and year-round recreation at state parks. Last year marked the first time all 50 state park systems sponsored First Day Hikes, offering 400 hikes nationwide.
In South Dakota, hikes will be offered at the following locations:
Riddle Hike, Newton Hills State Park near Canton, sunrise to sunset. Info: 605-987-2263
First Day Nature Hike, Blood Run Nature Area near Harrisburg, 10 a.m. CST. Info: 605-987-2263
New Year's Bird Count Walk, Lewis and Clark Recreation Area near Yankton, 10 a.m. CST. Info: 605-668-2985
Creekside Stroll, Custer State Park, 10 a.m. MST. Info: 605-255-4515
New Year's Get Out and Go Scavenger Hunt, Adams Homestead Nature Area near North Sioux City, 1 p.m. CST. Info: 605-232-0873
Lewis and Clark History Hike, Spirit Mound Historic Prairie near Vermillion, 1 p.m. CST, pre-registration required. Info/register: 605-987-2263
First Day in the Forest, Richmond Lake Recreation Area near Aberdeen, 1 p.m. CST. Info: 605-626-3488
Snowshoe If Snow, Hike If No, West Whitlock Recreation Area near Gettysburg, 1 p.m. CST. Info: 605-765-9410
Birdwatcher's Hike, Angostura Recreation Area near Hot Springs, 1 p.m. MST. Info: 605-745-6996
First Day Snowshoe Hike, George S. Mickelson Trail, 1 p.m. MST, pre-registration required. Info/register: 605-584-3896
First Day Find It, Lake Herman State Park near Madison, 1 p.m. CST. Info: 605-256-5003
After the 2011 Flood, LaFramboise Island Nature Area in Pierre, 2 p.m. CST. Info: 605-773-2885
First Day Hike, Oakwood Lakes State Park near Bruce, 2 p.m. CST. Info: 605-627-5441
Snowshoe Along the Big Sioux, Big Sioux Recreation Area in Brandon, 2 p.m. CST. Info: 605-582-7243
Logo courtesy South Dakota Game, Fish and Parks