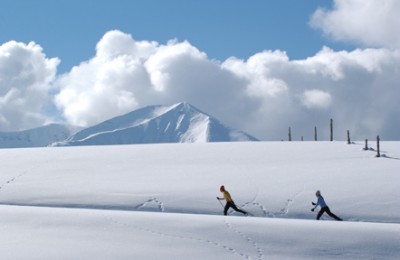 More than 100K of groomed trails & 28 cross-country events this winter
The Gunnison-Crested Butte Valley, located in southwest Colorado, is a Nordic skiing hot spot with trails and events to satisfy all levels of skiers.  Groomed Nordic trails now number more than 100K, backcountry routes are plentiful, and a jam-packed calendar of 28 events offer opportunities to have fun and stay in shape.
New Moon & Milky Way Photography Workshops & Ski for Hope
Join Raynor Czerwinski, a local professional photographer, on a cross-country ski and photography tour out to the historic town of Gothic (four miles one way on moderate terrain or 1.5 to 2 hours).  Stay overnight in the Maroon Hut, a cabin owned by Rocky Mountain Biological Laboratory, and spend the evening photographing the sun set and the full moon rise over historic buildings and dramatic mountain scenery.  Participants must provide equipment, a sleeping bag and food.  The workshops are being offered on Jan. 11 – 12, Feb. 25 – 26 and March 11 – 12 for $225 through the Art Studio of the Center for the Arts, www.crestedbuttearts.org.
The second annual Ski for Hope Nordic Challenge will take place on March 2 and feature three distances: 30K, 10K and 3K. Races will take place at the Town Ranch in Crested Butte beginning at 10 a.m.  Registration will open late December with all proceeds benefit Living Journeys, Gunnison County's community cancer support network.  Entry fee is $30 or $10 for kids 12 and under. Prizes will be awarded for top finishers. Go to www.livingjourneys.org or call (970) 349-2777.
Gunnison Nordic Club
The Gunnison Nordic Club is offering three events for all levels of skiers this season and will continue to groom approximately 45 kilometers of trails at Van Tuyl Ranch, Hartman Rocks Multi-Use Recreation Area, city parks, and Mill Creek located north of Gunnison.
New this year is a Full Moon Hartman Rocks Ski Tour on Dec. 28 at 6:30 p.m.  Bring the entire family and enjoy a beautiful ski or snowshoe on trails with Gunnison Nordic Club guides.  Hot chocolate and treats will be served indoors after the tour.  There is no cost to participate, but bring your own gear. The annual Kenny Mac Ski Fest on Jan. 26 is a great opportunity to race, tour and have some fun at Hartman Rocks.  Details and costs will be posted at www.gunnisonnordic.org.
Enjoy a Nordic ski or snowshoe to a Full Moon Bonfire at Van Tuyl Ranch on Feb. 22 at 7 p.m.  Hot cocoa and treats will be served.  All ages are welcome to this free event (must provide your own equipment).
Black Canyon of the Gunnison
Located between Gunnison and Montrose, Black Canyon of the Gunnison National Park will be grooming South Rim Drive from the visitor center to High Point for skate and classical skiing.
The park also will be offering a free, two-hour cross-country ski clinic to learn the basics on Jan. 10 at 1 p.m.  Rangers will lead free moonlight ski outings on the South Rim Ski Trail on Jan. 26 and Feb. 23 starting at 7 p.m.  Participants should meet at the South Rim Visitor Center and provide their own equipment for both the clinic and moonlight outings.  Call (970) 249-1914, ext. 423 or (970) 641-2337, ext. 205 for more information.
Crested Butte Nordic Center
The Crested Butte Nordic Center is a full-service cross-country ski center providing lessons and complete rental packages for skate and classical skiing, as well as ice skating and snowshoeing.  The Nordic Center maintains more than 55 kilometers of groomed trails and will be open from Nov. 17, 2012 – April 7, 2013.  For information and event registration, call (970) 349-1707 or visit www.cbnordic.org.
Citizens' Races are scheduled for Dec. 15, 22, Jan. 5, 12 and 19, with the race format and length changing each week.  Participants must register at the Nordic Center by 9:30 a.m. on race day, with the start at 10 p.m.  The cost is $12 for adults, $10 for CBNC members and $2 for kinds under 12.
Yurt Dinners are held on the full moon or around holidays and involve an easy snowshoe or Nordic ski (one mile each way) to Magic Meadows for a five-course dinner prepared by local chef Josephine Kellett of Creative Catering.  Doors open at 6 p.m., and dinner is served at 6:30 p.m. on Dec. 23, 28, Jan. 26, Feb. 14, 24, and March 26.  Guests chose between chicken cordon bleu, steak au poivre, encrusted filet of salmon and vegetarian strudel for the entrée.  The cost is $70 for adults and $35 for kids under 12 and includes a trail pass and equipment rental but not gratuity or alcohol.
A New Year's Eve Yurt Dinner runs from 7 – 10 p.m. and includes a five-course dinner, wine, beer, live music by Alpine Soul, a trail pass and rental equipment for $90 per person. A New Year's Eve Yurt Party starts at 10:30 p.m. and includes wine, beer, snacks, DJ music and a trail pass for $35.
Learn to Skate Ski for Free! clinics are offered at 1 p.m. on three Thursdays this season: Jan. 3, Feb. 7 and March 7.  Reduced-priced ski rentals are available.
27th Annual Alley Loop Nordic Marathon on Feb. 2 is part of the American Ski Marathon Series and is an American Birkebeiner qualifier. Starting and finishing on Elk Avenue and winding through alleyways, streets and trails located on the outskirts of town, Alley Loop features course lengths of 1.5K, 3K, 5K, 10K, 21K and 42K, allowing all skill levels and ages to participate (many in costume). Registration costs and start times vary.  New this year is a Friday night Pub Ski on Elk Avenue between participating bars.
Gothic Mountain Tour (previously known as the Super Tour) is a 22.5K backcountry ski event slated for Feb. 16.  It's a race for those who like to go fast, or it can be skied as a loosely-guided tour. The tour starts at 9 a.m. in the town of Crested Butte with skiers working their way up to Crested Butte Mountain Resort, Gothic and more before finishing at the Nordic Center's Magic Meadows Yurt for food and beverage.  This is a challenging ski with a steep 2,000-foot climb and a sometimes fast downhill. Shovels, probes, beacons, full skins and a COSAR card are required. The cost is $35.
Backcountry Nordic skiing and snowshoe tours are for those who want to adventure off groomed trails.  Full-day tours start at 9 a.m. and include lunch, while half-day tours are three hours and start at 10 a.m. and 1:30 p.m. or by appointment.  The cost is $65 per person for half day and $95 per person for full day, including transportation, rentals and a guide.  Advance reservations and a two-person minimum are required.
Visitor Information & Personalized Vacation Packages
To find out more about Gunnison County or to book personalized vacation packages, call the Gunnison-Crested Butte Tourism Association's toll-free line, (800) 814-8893, or visit www.GunnisonCrestedButte.com.  Find the Tourism Association on Facebook at www.facebook.com/gcbta or follow us on www.twitter.com/gcbta.
Image courtesy Gunnison-Crested Butte Tourism Association