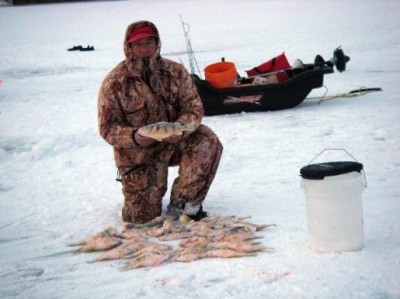 Dozens of waters in Utah provide good ice fishing action
You have warm clothes and waterproof boots.  Your ice fishing equipment is ready to go.  And you have a basic idea of how to locate fish and catch them through the ice.
So what's standing between you and a great ice fishing experience this winter?
Maybe only one thing: Knowing which waters in Utah to fish.
Fortunately, many waters in Utah provide good ice fishing year after year.
"In my opinion, Utah has some of the best ice fishing in the country," says Drew Cushing, warm water sport fisheries coordinator for the Division of Wildlife Resources.
Cushing has fished through the ice in states across the country.
"Utah provides a wider variety of quality fish to catch than any place I know of," he says.  "And many of these opportunities are probably close to your home."
Cushing gave Utah County as an example.  If you live in the county, you can fish for white bass at Utah Lake in the morning, and then turn around and head to Strawberry Reservoir to catch trophy-sized cutthroat trout in the afternoon; all in the same day!
Fishing reports
Visiting the DWR's fishing report is one way to learn which type of fish are in which waters and where fishing is the best.
DWR biologists, officers and outreach personnel update the report every one to two weeks.  You can read the report at www.wildlife.utah.gov/hotspots.
Other Internet sources—such as utahwildlife.net and bigfishtackle.com—are also good places to visit.  And don't forget your local fishing tackle shop or sporting goods store—people who work at these stores are often the first ones to know about good fishing in their areas.
Yellow perch
Larger perch:
Fish Lake
Hyrum Reservoir
Rockport Reservoir
Smaller, but more abundant perch:
Pineview Reservoir
Mantua Reservoir
Starvation Reservoir
"Catching perch at Pineview can be fairly easy," Cushing says. "Just locate the spot on the bottom where the perch are, and then put your bait in front of the fish."
Bluegill
Larger bluegill:
Pelican Lake
Steinaker Reservoir
Smaller, but more abundant bluegill:
Largemouth bass
Pelican Lake
Mantua Reservoir
Rainbow, cutthroat, brown or tiger trout
Deer Creek Reservoir
Steinaker Reservoir
Starvation Reservoir
East Canyon Reservoir
Strawberry Reservoir
"Strawberry provides fantastic fishing for big trout, and lots of them," Cushing says.
Birch Creek Reservoir
Scofield Reservoir
"Both of these waters provide good fishing for big tiger trout," Cushing says.
Lake trout
Flaming Gorge Reservoir
Fish Lake
"You have a good chance to catch some big fish at these waters," he says.
Burbot
Crappie
Cushing says crappie can be tricky to catch. "They suspend at various depths," he says, "so they can be tough to find.
"But if you catch a crappie at a certain depth, keep fishing that depth," he says, "and you should do well. Pineview has a good population of crappie."
Kokanee salmon
Causey Reservoir, and Porcupine Reservoir
Cushing says the best ice fishing for kokanee salmon happens at the two waters at the start of the ice fishing season. "When ice first forms on these waters," he says, "salmon fishing can be fantastic for about two to three weeks."
White bass
Utah Lake
This is another water where the best fishing happens early in the ice fishing season. "Fishing for white bass is usually best from the time the ice forms until about mid January," Cushing says. "The harbors at the lake are the best places to catch them through the ice."
Some of the best fishing of the year
Cushing says the arrival of winter doesn't mean fishing is over until the spring. "Winter can be the most fun and productive, and the least expensive time of the year to fish," he says. "New lakes, new opportunities and new species of fish are out there for you to enjoy. Get out there, and take advantage of it."
Image courtesy Utah Division of Wildlife Resources