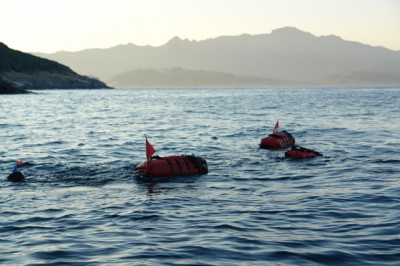 With the relatively new sport of "seatrekking" gaining ground, adventurous hikes no longer have to stop at the sea. Germany company Aetem has created waterproof backpacks aimed at expanding the route available to intrepid travelers.
Seatrekking is hiking in coastal areas that includes swimming, snorkeling, or free diving across large bodies of water to continue following a route otherwise unavailable to travelers on foot.
Aetem has produced a line of waterproof backpacks that minimize the gear needed to complete such adventures. Traditionally, anyone who would want to cross a lake, river, or simply get to a nearby island would have to kayak, canoe, or ferry across. The line of Aetem backpacks lets you store all your snorkeling gear inside as you hike. Then, when you're ready to cross the water to get to your destination, you put all your hiking gear in the waterproof bag, which attaches to your body on a leash and floats above the surface as you explore the seafloor from a unique perspective.
The video below shows you a quick glimpse of that perspective.
httpv://youtu.be/BaKsuXLtlQs
Aetem's products include the Big Pack, Seashell and Day Pack. Each are a little different to suit different needs of trekkers.
The Seashell is the company's flagship product. Made with a hard carbon shell, the Seashell has detachable aluminum fins which prevent zigzagging in the water. When the waves are big, the shaft of the pack allows for bodyboarding. The pack is gas- and waterproof, which protect its contents from moisture. It comes in different weight classes and graphic designs.
The Big Pack is designed for multi-day tours with a pack volume of about 70 liters. It's made of a highly durable tear-resistant outer material that is waterproof and also protects contents from moisture. Two adjustable chambers separate wet and dry gear. Two valves inflate the pack when you're ready to swim and also floats behind you on a leash, which can be detached for safety purposes. The Day Pack offers similar features of the preceding two designs, but it only has a 35 liter capacity, meant for shorter trips.
On the company's website, there is a short list of some recommended sea-trails which you can take your Aetem backpack on. The first tour takes you on a four-day trek in the Mediterranean Sea off the coast of Valun, an island city in Croatia. There are more routes with maps, photographs and other useful information coming for Sardinia and Elba, Italy and Kho Lipe and Tao, Thailand.
Find more information on Aetem's website, www.aetem.de.