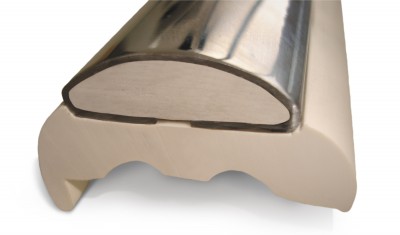 A craft's rub rail can be beautiful as well as practical. Sphaera, a new patent-pending fender profile from Mate USA, combines high-impact strength with elegance and good value.
Born of Italian ingenuity and skill, Mate USA's new product has changed the design of traditional rub rails. Sphaera features a 316 L stainless steel outer layer, co-extruded with a shock-proof vinyl chloride core. This minimizes weight yet retains durability equal to traditional half-round stainless profiles. It also enables the rub rail to easily bend around hull corners without kinking the metal. The Sphaera system's semi-rigid PVC base comes in pre-cut sizes to eliminate unsightly joints.
Installation is quick and simple, using the boat itself as a bending template. Once the PVC base is positioned in place with tape, the pre-drilled stainless bars are aligned on top and the assembly is secured with stainless steel screws. Stainless steel top caps cover any gaps at joints, and keep the bars perfectly aligned. Elegant stainless steel end caps provide an aesthetically pleasing finishing touch to the boat's transoms and sides.
Unlike traditional rigid rub rail materials, Sphaera is lightweight and easily handled. It eliminates the need for expensive pre-bent profiles or special installation tools.
Sphaera is available in 1″, 1-3/8″ and 2″ heights in kits with various lengths to accommodate a wide range of boat sizes and types. Owners can choose from black or white PVC bases, or they can use Sphaera with no base.
The 50′ kit of 1″ Sphaera retails for approximately $800, including the PVC base, stainless steel insert profile, and all top caps and end caps. The same complete Sphaera 50′ kit in the 1-3/8″ size costs about $1,300. More information about Sphaera, including an installation demonstration, can be found at www.youtube.com/tessilmare.
Image courtesy Martin Flory Group/Mate USA