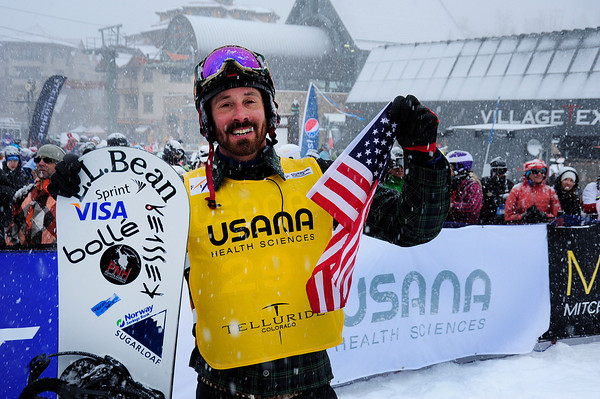 His World Cup drought is over.
Maine's double Olympic gold medalist Seth Wescott notched his first World Cup snowboard cross (SBX) win Friday in four years with a narrow victory over Australia's Alex Pullin.
But Wescott wasn't done. The next day he and teammate Nate Holland combined for the team SBX title as well giving Wescott a weekend sweep of events.
Friday's photo finish win was even sweeter as it was on U.S. soil at Telluride, Colorado during heavy snow and in a race that saw the lead change several times in the finals of a four-man heat.
The triumph came as the 36 year-old ended last season early in January following a knee injury. He failed to qualify for the season opening World Cup race in Austria earlier this month.
"It feels really good to be back," said Wescott. "I didn't event get into heat in Austria last week. So when I hole-shotted the first one, I said, 'here we go, I love doing this.'"
Wescott was able to hold off Pullin, who had beaten him in the quarterfinals and semifinals. His first place finish was a welcome change of pace for Wescott. Two years ago he was in another photo finish, but lost to Pierre Vaultier of France.
"I had another good upper section," he said. "I pulled drag on [Canadian Chris] Robanske and got by him by the second triple. I had been having problems on that second straightaway all week. The second set of rollers were a little choppy so it was hard to make an effective pump. I was almost happy each run when someone would come by me and I could pull draft again."
Pullin and Wescott went back and forth for the lead change three times.
"So when Alex came by me I knew I could set him up for turn six," he said. "I had a great turn five and just carried that momentum. On the lower section it was snowing so hard that I was just waiting off the finish jump because I didn't go far enough. I was waiting for someone to slingshot me. But I didn't want to look. I was just down in my tuck and hoping that finish line would come as fast as it could."
It was Wescott's first World Cup win since December of 2008.
Fellow U.S. Snowboarding Team riders Holland of Squaw Valley, California, Alex Deibold of Park City, Utah and rookie Trevor Jacob of Mammoth Mountain, California reached the quarterfinals before dropping out.
Canada's Dominique Maltais won the women's title with Salt Lake City's Faye Gulini the top American at ninth.
On Saturday, Wescott and Holland won each of the three heats en route to the title.
Up next for snowboard cross is the FIS Snowboard World Championships at Quebec's Stoneham Jan. 24-26.
Also at Telluride, Ski Cross USA's John Teller of Mammoth Lakes was the top American finishing seventh in the semifinals of the Ski Cross World Cup under brilliant blue skies.
Top male was Slovenia's Filip Flisar with Switzerland's Fanny Smith capturing the women's title.
In the semifinals Teller got boxed out with a crash ahead of him. He avoided the scene but fell back, finished third and missed the finals.
"In the semi I was trying to avoid traffic and had a big crash in front of me," said Teller. Trying to move out of the way of everything, if you're not running a flat ski you're not going to be pulling ahead. And that's what put the last nail in the coffin for me. Happy to get into the small final and finish seventh. A good day."
Teller said it was awesome to race in front of the home nation crowd.
"I've got my mom, my sister, my dad here and everyone else in Mammoth is watching on live TV," he said.
NBC will air the USANA Ski and Snowboard Cross Cup at 3 p.m. EST on Saturday, December 22.
Image by Tom Kelly/USSA