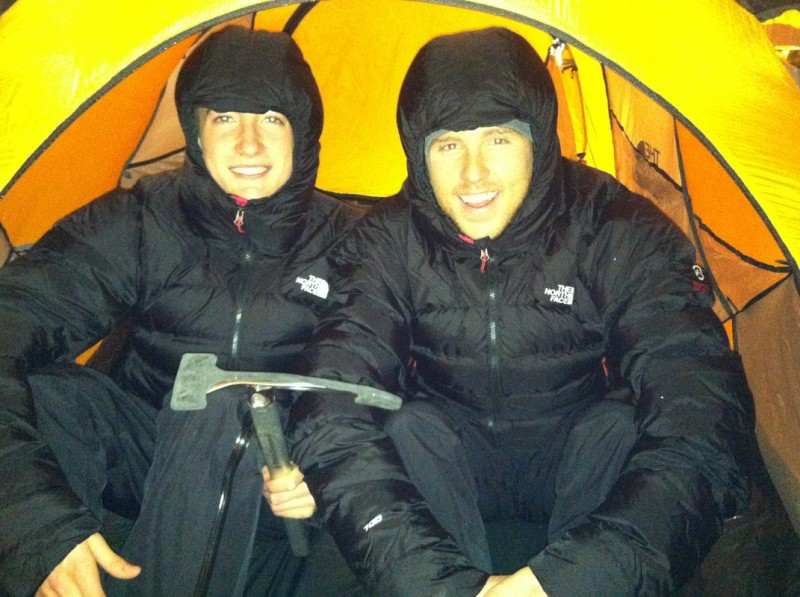 Adam Peterman is just a senior in high school, but he already has a list of notable achievements under this belt and by the end of this week, he hopes to have another to add to his growing list. For his high school senior project, Peterman, 17, and his cross country coach, Mike Foote, 29, will travel from Death Valley to Mount Whitney using only bikes and their own two legs.
At Hellgate High School in Missoula, Montana, every senior must complete a custom project that gives back to the community. Peterman chose to raise money for Outdoor Nation (a two-year-old foundation dedicated to engaging youth nationwide in outdoor adventures and activism) and seeks to publicize their fundraiser with their excursion. At the time of publication, Peterman has already raised $1,165 of his $5,000 goal.
The feat is no small one. The men are only giving themselves two days to complete the journey, which will take them from 280 feet below sea level at the Badwater Basin of Death Valley to the top of Mount Whitney at 14,500 feet. The 135-mile bike ride between the two places will also undoubtedly be a big challenge since they are preparing to do it all in one day. After camping at the trailhead, Peterman and Foote will continue up the 11-mile trail to the top of Mount Whitney.
"We knew we wanted to do something really physically demanding," Peterman said. "We had a couple ideas at first, but we wanted to also combine things that we were interested in like biking and hiking and potentially running. I remember one day after cross country practice, Mike was like,'I got a good idea from some of my ultra running friends, how about lowest to highest in the lower forty eight?'And it just grew from there."
For the past six months, the pair has been running competitively to prepare for this challenge, biking on stationary bikes and boxing themselves in cold houses to prepare for the frigid weather. In 2012, Peterman and his good friend, Chris Herrick, set out to summit Stuart Peak, a mountain near Peterman's home, once a month for an entire year. The project, known as "12 in 2012" was a hard-earned success and at around 18 miles roundtrip, it was the perfect primer for Mount Whitney. Foote is a sponsored ultra runner for The North Face ultra running team, with previous backcountry and outdoors experience.
In a phone interview, Foote and Peterman said they feel aerobically fit for the challenge, but the mental preparedness comes from simply being prepared.
"We're trying to be as prepared as possible; obviously physically, but just also having the right gear for the trip as well and knowing that we can be comfortable and we've done a lot of route planning," Foote said. "We've been packing all day a lot of our gear for the biking and hiking section, we have our roads bikes but we also have an ice axe and crampons. We've got a long grocery list we're going to go tackle here in a couple of hours. Hopefully being prepared will help us feel a little bit more comfortable on that side of things."
Peterman and Foote depart for California on Tuesday, December 18 and begin the biking, hiking and camping journey at 4:00 a.m. on Thursday, December 20. To donate to their selected nonprofit, visit their webpage.
Image courtesy of Mike Foote