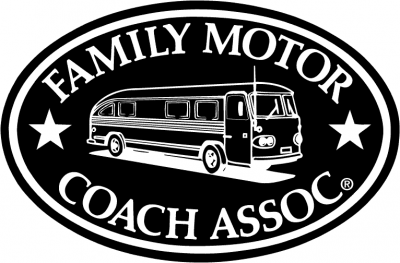 Family Motor Coach Association (FMCA) will offer eight area rallies in various locations around the United States next year, as well as a special 50th anniversary Family Reunion and Motorhome Showcase in Gillette, Wyoming. 
FMCA's motorhome events in 2013 will provide the perfect opportunity for motorhome manufacturers and RV suppliers to come face-to-face with an enthusiastic group of motorhome owners.
During FMCA area rallies and Family Reunions, motorhome owners socialize and enjoy seminars, entertainment, and other scheduled events. Motorhome manufacturers and RV suppliers set forth their wares, giving attendees the chance to shop for a variety of motorhomes and RV-related merchandise all in one location.
Family Reunion & Motorhome Showcase events are coordinated by the FMCA national office, and each Area Rally is organized by FMCA members in the respective area.
FMCA's 2013 Area Rally dates and locations are:
Western Area Rally, January 9-13, 2013, Riverside County Fair and National Date Festival grounds in Indio, California.
Southeast Area Rally, February 6-10, 2013, Hernando County Airport, Brooksville, Florida.
INTO Area Rally (International Area), March 20-23, 2013, Lazydays, Tucson, Arizona.
Midwest Area Rally, July 24-27, 2013, Delaware County Fairgrounds, Manchester, Iowa.
Northwest Area Rally, August 8-11, 2013, Linn County Fair & Expo Center, Albany, Oregon.
South Central Area Rally (Six-State Rally), September 11-15, 2013, Missouri State Fairgrounds, Sedalia, Missouri.
Great Lakes Area Rally, September 18-22, 2013, Elkhart County 4-H Fairgrounds, Goshen, Indiana.
Eastern Area Rally, October 9-13, 2013, York Expo Center, York, Pennsylvania.
In addition to the area rallies, FMCA's 88th Family Reunion & Motorhome Showcase will take place June 19-22, 2013, at CAM-PLEX Multi-Events Facilities in Gillette, Wyoming. This will be FMCA's first visit to Gillette for an international event. And it is especially significant, as it will mark the culmination of FMCA's 50th anniversary celebration. The association was founded in July 1963 by 26 "house car"-owning families.
All Family Reunions offer seminars, entertainment, and socializing, but special commemorative activities in Gillette will make it a gathering that members will not soon forget. CAM-PLEX is a 1,100-acre convention, exhibition, and performing arts center with six separate RV park venues encompassing 1,730 sites with electrical hookups. The association is expecting approximately 2,500 motorhome families to take part in the golden anniversary festivities at Gillette.
"We're looking forward to FMCA's 50th anniversary celebration this June in Gillette, Wyoming. Not only that, but with FMCA events taking place at varying times and locations, motorhome owners should find that they don't have to travel very far to participate," FMCA president Charlie Schrenkel said. "We invite them to join us at one or more of these exciting locations and to experience the fun, seminars, entertainment, and the motorhome and related product displays among people who share their love of the motorhome lifestyle."
In 2014, specifically March 17-20, FMCA returns for an eighth time to Perry, Georgia, for a Family Reunion & Motorhome Showcase. The 1,100-plus-acre Georgia National Fairgrounds & Agricenter has become a popular place for RV rallies, with its spacious parking facilities; expansive meeting, exhibition, and entertainment venues; and convenient location just off Interstate 75. Dates and location for the summer 2014 Family Reunion have not yet been announced.
For information about how to attend an FMCA event as a private individual or an exhibitor, contact the FMCA Events Department at (800) 543-3622, (513) 474-3622, [email protected].
Logo courtesy Family Motor Coach Association