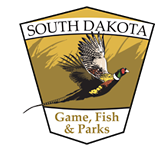 Snowmobiliers might not be able to hit the trails in much of the state just yet due to the lack of snowfall, but a new interactive map will keep you on top of conditions so you'll be ready when the snow does fly.
The interactive map makes it easier than ever to view trail conditions and routes, as well as locating businesses, restrooms and parking areas along the state snowmobile trail system.
And, you can take it with you. The SDGFP Outdoors mobile app is available for both Andriod and Apple devices. The trail map also works with the GPS technology in smart phones to show your current location on the trail.
View the map and find links to the app on our website.
East River trails opened Dec. 1. The best spots to ride right now are the Dakota Midland Trail near Aberdeen and the Siouxland Trail near the Sioux Falls area. Both are reporting good to excellent conditions.
Black Hills trails open officially tomorrow, but we're waiting for more snow before grooming begins.
Logo courtesy South Dakota Game, Fish and Parks