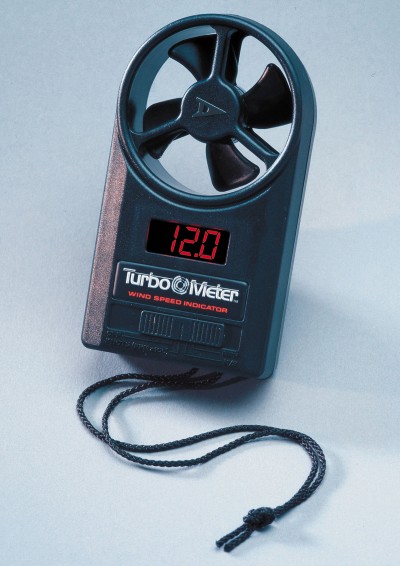 Boaters can access wind speed information anywhere with the handy Turbo Meter from Davis Instruments. Compact yet sophisticated, the Turbo Meter employs high-tech electronic circuitry for maximum sensitivity and accuracy, measuring wind speeds from 0 to 99.9 mph.
This handheld anemometer operates on the principle that a freely turning turbine rotates at a speed directly proportional to wind speed. Even the lightest winds are detected by the instrument's sensitive sapphire jewel bearings.
The turbine's rotation is sensed by an infrared light beam, which adds no friction.
Large scale integrated electronic circuitry increases the reliability and accuracy of the Turbo Meter's readings. The instrument's versatile three-digit display can be switched between four different scales to indicate wind speed in miles per hour, knots, feet per minute or meters per second. A high resolution screen provides excellent viewing contrast, even in bright sunlight or at night.
Small enough to be tucked into a pocket, the Turbo Meter weighs only 3 oz. and measures 2.6″ x 4.7″. It runs off three AAA batteries, and an automatic power-off function helps preserve battery power. Its suggested retail price is $165.
Image courtesy Martin Flory Group/Davis Instruments