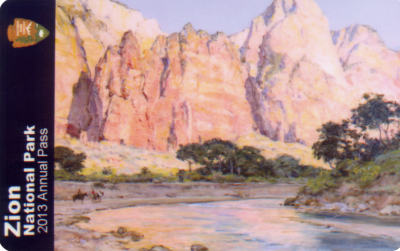 The 2013 Zion National Park Pass is now available. This year the pass can be purchased as a gift and ahead of the New Year. The first in a series of annual passes that will depict objects from within the park's collections, the 2013 pass features a painting by Howard Russell Butler.
In 1926, the Union Pacific Railroad commissioned Howard Russell Butler to paint a series of landscapes to promote the scenic marvels of the Colorado Plateau, including Zion National Park. "Mountains of the Sun" and the other paintings were used in a traveling exhibit by the railroad to promote tourism in the region. For many Americans, these paintings were their first glimpse of the beauty and majesty of Zion.
The passes will be available prior to January 1, 2013 at the Zion Headquarters Building, Monday through Friday 9:00a.m. to 4:00p.m. and at the Kolob Visitor Center 9:00a.m. to 3:00p.m. daily (including weekends).
Weekend purchases can also be made at Headquarters by calling the fee office (435-772-0177) in advance to arrange a time. All passes sold in December will be validated for January 2013 and will be honored at the park beginning January 1, 2013 and will be good through December 31, 2013. After January 1, these passes will be available for sale at all entrance stations to Zion National Park.
The 2013 Federal Recreation passes are also available for purchase now at http://store.usgs.gov/pass/index.html.
Image courtesy National Park Service