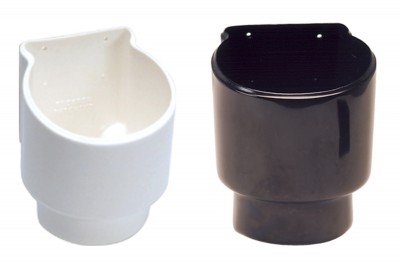 Helping prevent messy spills and keeping beverages in place, Beckson Marine's SoftMate Can Holder is capable of mounting just about anywhere.  The HH-61 Can Holder is great for cans with koozies, wine and one liter bottles.  It measures 5″ H x 3″ W x 3-1/2″ in diameter.
Constructed from flexible PVC, it's designed not to hurt boaters or equipment.  A handy item to have on board, it can hold more than just cans.  It can also store air horns, cell phones, glasses, sunglasses or anything else that needs safekeeping.
Installation only requires three mounting screws.  If users don't want to drill holes or prefer a moveable installation, suction cup mounts are available separately.
Beckson's Soft-Mate HH-61 has a suggested retail price of $18.50 and is available at a discount from many marine stores and online retailers.  It's offered in black or white.
Beckson offers a wide range of Soft-Mate equipment holders to fit most boaters' needs and applications.  Products are designed to hold winch handles, binoculars, radios and safety items, but can accommodate many other items.
Image courtesy Martin Flory Group/Beckson Marine